A key point in the EUR/CHF trade was when the price fractured the areas of support, which are identified by the Fibonacci retracement at level .618 % at an approximate price of 1.2800. Once those areas have been breached, we expect the trend to be lower than the previous minimums, but in turn, the price increases producing up trends. This move to the upside deceives many traders  to falsely appear that the market recovered, and is, in fact, bullish. Once the market reaches the previous high, and creates "fake" break outs, we can then identify that the trend is no longer up, but is now normalizing to its proper direction. Now, after having a "fake" recovery, the trend, headed in the proper direction, begins at the peak of the market and breaks even lower market minimums.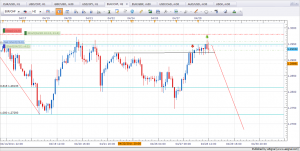 As we see in the picture, we can view the projection of a down trend starting from the peak levels of the market at the price level of 1.2950 to break the minimums around to price level of 1.2700. In addition, once decided to execute the trade, the market price became extended. The real advantage is to know where to place the stop loss in the event of unexpected market movements as represented below in the 2 hour chart.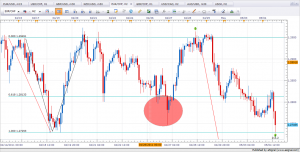 Upon reaching the minimum levels, those price areas can be a bit conflicted, making this trade a final target area, with a risk/benefit of 1 to 4.
For more information feel free to email us at [email protected]