Today RIG was the easiest of stocks to trade. 55 was the level. RIG dipped below there. And it trended in the most beautiful downtrend. Were you in this trade?
I wasn't. This level was discussed during our AM meeting. Again I wasn't in this trade. We have discussed this RIG level on our desk for days. Oil was weak. The oil sector traded in a downtrend intaday. Did I mention I wasn't in the RIG trade?
Trading is a performance based game. With stuff like missing the RIG trade, I tend to get mad at myself or something first and then seek a solution. Perhaps it's the Sicilian blood? Perhaps it is I cannot stand underperformance from myself? But I need to be in this trade. And I would imagine so do you. What is our solution?
So after the Open I will look at our charts in RIG. I will reprepare as if I hit the restart button on the trading day. I will check the news in RIG and oil. What is with this hurricane news? Did the dollar have an impact? Was it just this 55 was the level of all levels, a 10 out of 10? The overall weakness in the market?
And then I will replay being in this RIG trade. I will give the trade a name. I will consider where to add, how much, and where to lighten up. With as much detail as possible I will simulate making this trade. I will talk to some of our guys on the desk about this trade. I will find a trader who made this trade, snatch his video tape and watch it with our desk. I will journal about this A set up. I will make sure that I brand this set up in my head, with all its details, and visualize myself crushing it.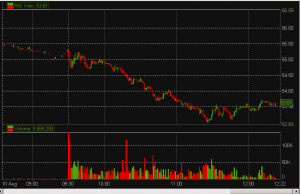 I caught a nice move in this CREE. A couple of the young guys are killing this MON. The day is young and there are more One Good Trades to catch. I will piece together a very profitable trading day. But I missed that trade in RIG. And the only way to get better is to replay it, practice making it, and brand it in my trading brain.
Mike Bellafiore
Author, One Good Trade: Inside the Highly Competitive World of Proprietary Trading (Wiley Trading)