Yesterday in our first series of  "Copy this trader" we highlighted the best practices of an SMB Trader to copy.  We are back at you with some more goodness from the desk.
continuing to focus on whats working for me which is finding the sector thats showing relative strength or has fresh news and finding the sympathy plays in the small caps. traded the social media small caps friend finder (FFN) which ive traded a few times in the past couple days also WEBM. also traded a few biotechs like IBIO, KUTV, SNSS, CYCC, OXGN. i had a decent week, finishing 150$ short of my … weekly goal. traded w/ 1/2 size today because alot of the times on big gap ups the small cap stocks dont trade as well.

you have to wait for pullbacks to prices that you like and not chase them. on days like today they generally dont move for the entire day after gapping up, but alot of the times in the last hour or 2 of the day they wake up and you can catch nice some nice moves. but for me its easier to trade them if there isn't a big gap up in the mkt, even though they are not highly correlated.

i think the theme for next week might be the biotechs, w/ THLD up 140% today. i know gman crushed THLD from 2.50 to 3.00 today and i really should have been in that…with my normal size a play like THLD can easily be a 2k play. so i really should have been involved. such a perfect setup..will include chart here :

thats a play that if i make on a friday and crush, puts me in a really huge position of strength going into the next week. i need to continue to improve my game on friday..we have talked about this a few times before. if i have a good week im not pushing it on a friday. i think that probably needs to change.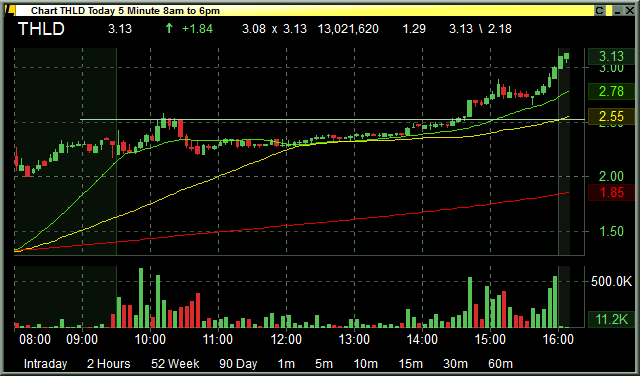 To this review I responded via email:
I love u highlighting a play that makes sense to u that u could have made more w. Visualize crushes this trade. U will internalize this and thus put yourself in a position to crush the next opportunity like this. Very good review work.
If you want to make more identifying set ups that make the most sense to you is the first step.  Nice job here by this SMB Trader.  Next you must visualize making this trade in Real-Time.  Your brain does not make the distinction between visualizing making this trade and making this trade in Real-Time.   It's all a  trading experience to your brain. The process of visualizing yourself crushing this trade brings you closer to internalizing this set up such that the next time it appears in Real-Time you will be better equipped to execute.
Don't send me an email hoping and wishing you could have made more.
Don't walk around NYC and the main streets of the blogosphere regretting a big chop in a set up that you have never taken the time to master.  That is just day dreaming.  Day dreaming about a play that you lack the skill to trade or have taken the time to work on mastering is as effective as day dreaming you will be the next George Clooney (btw awesome interview of him on the Actor's Studio playing now).
Bella
no relevant positions