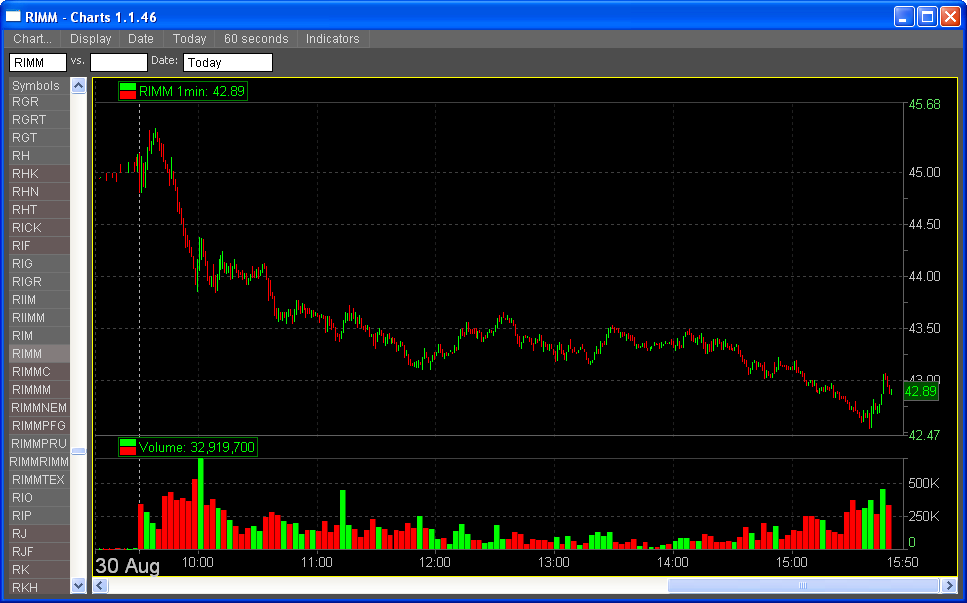 Look at the chart above.  Say you shorted RIMM below 45 and got stopped out at 45.16, develop a reason for this loss and then continue reading.
Ok great to have you back with us.  Today during a teaching session Bad A$$ Mike shared a trade he made on the Open getting short RIMM below 45.  Steve whispered in his ear before the opening bell that 45 was a big level and it had downside potential.   Bad A$$ Mike had other ideas but he flipped to Steve's right before the open.   He shorted below 45 and got stopped out.  Reviewing his work, the subsequent two points of down and frustrated he concluded,"I didn't give RIMM enough room."
I rose from the back of our training room and sauntered to the front.  "That is not why this trade did not work," I challenged.  Then I asked a series of questions to our traders to elicit the real reason why this trade did not work for Mike.   I will offer the cliff notes version.
1) Bad A$$ did not evaluate the importance of the 45 level for him.  I asked him on a scale of 1-10 how important the 45 level was for him and he had no answer.
2) Bad A$$ did not know that there was fresh potentially negative news with RIMM.  I asked him if there was fresh news in RIMM and he claimed there wasn't.  @vontrading corrected him.
3) Bad A$$ did not consider how weak or strong the overall market was.
4) Most importantly Bad A$$ missed the best short which was below 44.80.  RIMM went above and below the level but then finally broke this pattern.  There is a subset to support plays.  One is shorting when a stock breaks its range below and above the level.   Know your subsets.
Bad A$$ did not have a feel for the Big Picture with this trade.   And he missed a subset of a support and resistance trade.  But this had very little to do with his stops and had everything to do with his process.   When you reflect on your trading get the real reasons for your losses correct.  This will help you make the necessary adjustments so you progress.  Finally the answer is not always wider stops.
Mike Bellafiore
Author, One Good Trade: Inside the Highly Competitive World of Proprietary Trading