I was long ESRX. It had gapped up on positive news. The first moves on the tape in the stock were positive. I liked the move above the open high. I liked the way it moved away from prices. I liked that above 56.50 provided a clear entry if it held above. The idea was shared on SMB Real Time:
can hold above 56.50
ESRX cleared this intraday opening level and pushed away from this price. This is a sign of strength. Stocks do not trend until after the open so we were still momentum trading ESRX. Long until we saw weakness. Flexible in our trading.  Wondering if ESRX had more room to run. Wondering if ESRX could trend for the entire day.
One our one minute chart, early on the open, the buyers were in control. On the open I use the one minute chart or the tick chart. Again it was early and we do not conclude a stock is trending until after the open. I watched the buying pattern searching for a change. I watched the way the offers were lifted sensitive to a change in pattern to exit or even get short.
At 57 ESRX looked very strong with offers being cleared. But then that offer would not lift. Sellers came back to the offer after present offers appeared to be cleared. Then the worst of all things happened on the tape. The seller lifted.  ESRX traded up about 7c and then sellers came right back to that 57 offer. Argggh. I quickly got out of my short.
When you see:
a) more selling than before on the offer (57)
b) with a stock that gapped up and made a strong upmove
c) with the offer lifting and then coming back to that offer where there was a ton of different and new selling
then…….
1) there is significant risk that this might be the top
2) your stock may pullback significantly even if it finds higher ground later in the day
A trader next to me after the serious new selling at 57 was bidding at 56.80 for some more ESRX.
I said, "That is not a good idea. There is risk now of a reversal or at least a sharp pullback. You need to let that come in more or wait until ESRX holds above 57. But it is not a long now at 57."
The developing trader agreed and quickly hit out of his long as he watched ESRX now at 56.60.
I walked to my lunch of bagels with a new trader who explained, "I have trouble determining where to enter."
This takes some screen time and lessons like in ESRX this open.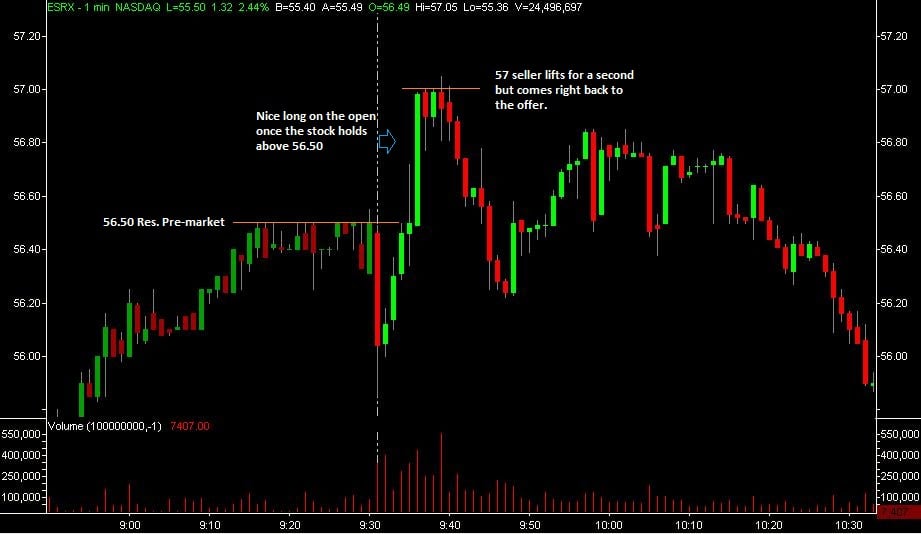 Bella
no relevant positions