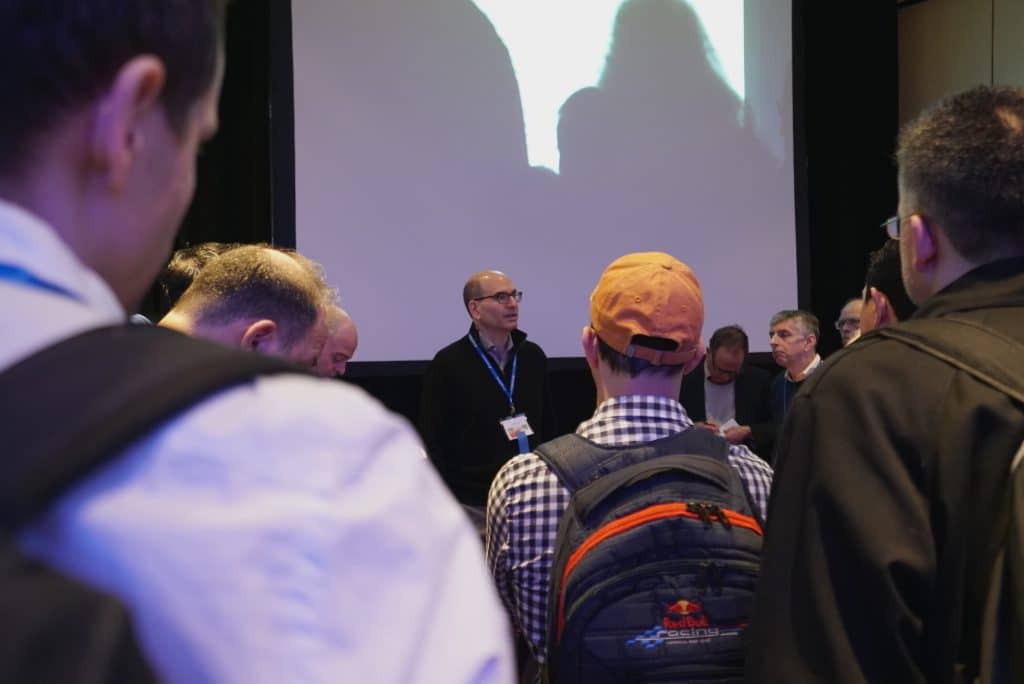 At the 2017 TradersExpo in NYC, I shared 8 lessons from our prop desk.  As a partner at a prop trading firm in NYC, I have the privilege of watching many traders grow from new to consistently profitable trader to high performing trader to even better.  I see how they succeed and why.  I share their obstacles and together we push past them.  I have a floor seat to watching them grow.  Along the way, these traders teach me and our trading community lessons.
Today I will share 8 lessons with you learned from traders on our desk.
Find a trading niche that has edge and leverages your personality and cognitive strengths.  Dr. Steenbarger is the most thoughtful voice in the trading community advocating for traders to match their trading system with their talents.  The best example from our desk is SWang, who almost exclusively scalps.  He tries to capture 10-50c in trades, over and over again.  His ability to process information quickly is distinct.  Sticking to scalping, with now large size as he has grown as a trader, allows him to play to his strengths and be a distinct trader.
Go where the big players cannot play.  My partner, Steve Spencer, wrote an illuminating piece, The End of Volatility, on trading solutions for underperforming traders in this period of historically low volatility.  One such solution was to play where the biggest in markets cannot.  We do some of that at our firm.  One rising SMB Trader, I call him "Nadal", has made this his focus and significantly improved his PnL.
 When your trades visit, you must trade them big!  Our most improved trader in 2016, would make his month in only a few trades.  He would scratch and scratch and lose and lose.  And then bam!  He would catch his favorite setup with massive size.  Know your favorite setup.  Internalize it through study.  Develop a risk system for when it arrives.  And then "let your hands go" and get big when you spot it.
Develop a growth mindset.  The most successful trader on our desk, Shark, has a growth mindset.  A growth mindset is the belief that you can improve your skill and thus results, from where you are at today.  Carol Dweck, author of Mindset,  compares this with the fixed mindset, where one believes they can only be as good as their talent dictates. Everyday he works to improve his trading, even after becoming a 7-figure trader.  He works on technology, new strategies, new ways to express edge, automated models, and tamping down dangerous periods of over confidence.
  Optimism improves your chances to capture trading opportunity.  The Chief, Seth Freudberg, who runs our options trading desk – powered by The Kershner Trading Group, is someone who I respect as much as anyone in the trading space.  He effectively lost his job as the CEO of a publicly traded insurance company, when it was acquired.  Instead of wallowing in disappointment, he used it as an opportunity to see a bigger and better opportunity- pursue his trading passion.  Martin Seligman teaches in Learned Optimism, that performance increases when we view that which happens to us thru an optimistic lens.  Today The Chief runs a successful desk of 15 options traders for our firm doing what he loves.
Automated not discretionary trading may be the best way for you to attack markets.  One of our top traders focuses on using his talents to code and build models.  Prior he was an discretionary trader mostly just treading water.  Shifting his focus on how he attacks markets made all the difference.  Now he is building out his automated trading team, running a series of profitable automated models, and our head quant in NYC.
Keep score of your trading diligently.  One of my favorite traders, Frequent Flyer, asked for more buying power on his favorite strategy.  Before he started his argument, my reaction with my inner voice was ,"Why does he want to focus on this trade?"  I listened to him before speaking.  That was smart!  Frequent Flyer data dumped on our conference room table irrefutable evidence for a capital bump, in the way of his trading stats for this trade.  His equity curve for this strategy was gorgeous.  We immediately approved the increase in risk.
Trade more consistently with a report card for scoring your daily routine/process.  Cool Hand RMac wanted to take his trading to the next level.  In his daily reviews with me, you could sense his stress about PnL.  We asked him to take a step back and focus on all the things necessary to improve.  To score his day based on whether he completed his process/routine rather than a hyper-focus on PnL.  He developed a report card on process that he uses to judge each day.  Early progress has been encouraging.
I hope some of these lessons help you improve your trading.
As always, please feel free to reach out and Ask Anything about your trading- [email protected]
Related posts
5 inspirations from Dr. Steenbarger's Master Class
21 key takeaways from Dr. Steenbarger's Master Class
*no relevant positions