After the open we meet in our training room to review the open with some of our newer traders. We talked CCL, Carnival Corporation, for the midday and into the close. Before that we went over what we liked about CCL and what we didn't.
What we didn't like:
1) Future bookings to probably decrease because of the accident.
2) Future lawsuits for the injuries to the families and passengers.
3) Investigations into safety failures.
4) Months of negative press.
What we liked:
1) Perhaps CCL was oversold
2) In the premarket there was nice buying on the tape near 28ish
3) In a stronger market stocks can have a tendency to bounce, shrugging off bad news.
4) CCL is a long standing company that value investors may want to own
Having said all of that, its near-term future probably depends on two price point learned from the start of today's trading session. We have the 29.20 level and the 29.80 level. Below 29.20 and our desk will focus on a Swing Short to the next important technical support level. Above 29.80 and our desk will focus on a Swing Long to the next important technical resistance level.
It is up to the individual trader when to exit either of these trades.
One more note. When you see a stock gap down like CCL look to others in their sector. Are they oversold? Was there a place to get long RCL in the premarket or on the open? This should be your thought process as an intraday trader.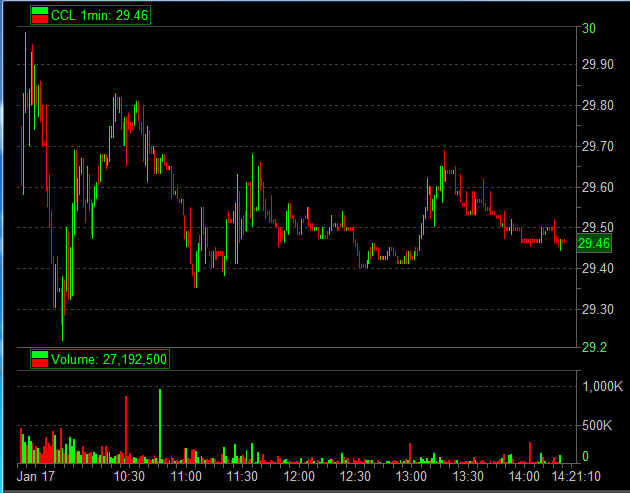 Bella
One Good Trade

no relevant positions