Mike,
I've just started your book One Good Trade, and I love it. My question is why start a prop firm if you and Steve are the best traders and it is all your money? Can't you just scale up your trades?
I trade my own money and was thinking about starting a prop firm, but then I think:
1.  It's my money.
2.  Why not just trade bigger amounts?
Clearly, I don't have all the skills as you do, as I'm somewhat of a "one trick pony," as I only trade UPRO, a 3X leveraged S&P ETF, and I essentially "buy the dips," as defined by price channels, slow stochastics and MACD. My holding period is weeks/months, more swing trading. I'm really looking for fear and greed. Debt ceiling debate was a lay up. A little manufactured fear, with a leveraged ETF worked wonders.
Here are some books that I've read: Alexander Elder's three books, Trading for a Living, Come Into My Trading Room, and The New Sell and Sell Short; Jesse Livermore's Reminiscences of a Stock Operatator and How to Trade in Stocks; and Trend Following by Michael Covell.
I've also read a few trading psychology books, and I bought the one you recommended by Steen. I'm also buying Kiev. If this guy counsels SAC Capital, there's certainly something I can learn. I've also read various books on fundamentals, including: Security Analysis, Intelligent Investor, and the Buffettology series. For daily reading, that would include The Wall Street Journal, IBD, and I'm somewhat addicted to CNBC. As for blogs, I don't follow any—but I will now follow yours.
Take care, and you do a tremendous job writing.
This is a great question. I recently shot a video for our new
SMB DNA Program
where I explain how and why we started.
When I first went to Steve to ask him about starting a prop desk this slide encapsulates his response: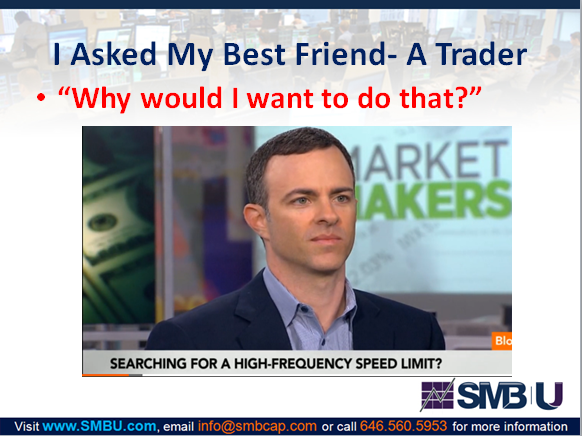 Now look at him!
This next slide explains why and how we started our firm:
1) To provide a solution needed in the trading community: a need for better training
2) A tremendous demand for training
3) A plethora of insufficient trader training
4) A desire by us to teach and develop traders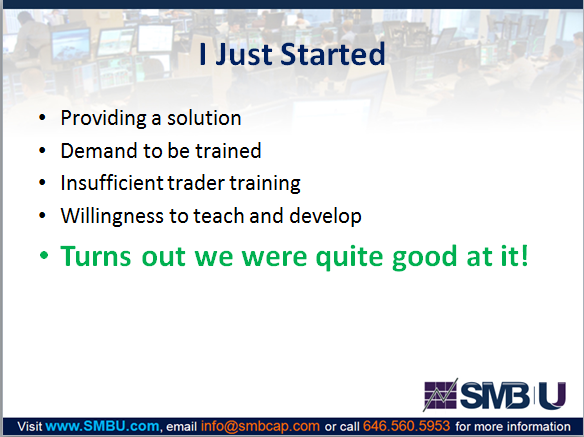 Yes, it turns out we were quite good at it, and we've now spun off the training for our prop traders into SMBU, where we offer trader training in many products globally.
You can be better tomorrow than you are today!
Mike Bellafiore
No relevant positions