Our firm in NYC has focused on training new traders to consistently profitable and then high performing trader over the past decade.  Here is what we have learned mentoring and coaching traders:
Develop a Growth Mindset- Shark is one of our most successful traders we have trained from new trader to consistently profitable trader and then high performing trader.  Each day he works on his trading game to get better. Go back and reread that last sentence.  Those with a fixed mindset believe they can only be as good as their talent allows.  Shark has experienced a trading career from a different lense.  Every trading session is an opportunity to improve and every trade a gift from the market to learn.  Be like Shark.
Bring a passion to study trading- The Chief was the CEO of a publicly traded insurance company.  He hated it.  In his late 40s, The Chief transitioned into professional trader and now runs our options trading desk, powered by Kershner Trading Group.  He loves his job.  We have found the best traders love to study trading.  One trader, who has broken out recently, spends weekends playing with excel spreadsheets to measure existing and new edges.  Many think they would love to trade.  The best love to study trading.
Find your trading niche- During stage 2 of our training program at SMB, new traders experiment with different trading strategies.  We encourage them to gravitate towards the strategies that make the most sense to them.  Below are the results from last month of a scalper- very active trader.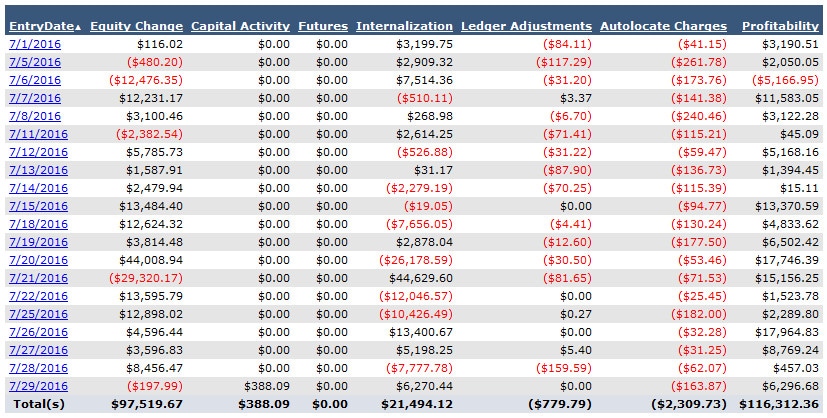 What is most interesting are not his trading results from the month, which are impressive.  What is most informative is that if we were to rewind three years, this trader's results would have shown similar consistency (he was negative one day last month).  His PnL however would have been in the 4-6k range for the month.  This trader kept working on his niche- scalping.  By slowly getting bigger in his strategies with edge, he has graduated to high performing trader.
Match your talents with your niche- The best traders match their trading niche with their talents.  As a trading example, those who process information very quickly should scalp- trade a very short time frame.
Trade with Edge- You cannot make money in markets without edge.  Commonly new traders speak with me privately in my office about their poor psychology impeding them from making good trades.  These traders will be like 3 days into their live trading career.  And I will be thinking: What the F***!  It's your lack of edge young newb.  It's your lack of edge that is breeding your frustration.   Until you have edge, very little else matters.
Team Trading matters- Senior traders sharing their strategies and working with deserving new traders as a part of their Trading Team is stage 3 of our training.  Copying successful traders, their strategies and their best practices, is an excellent way for traders to make progress.  One of our top traders was almost fired by our firm for poor performance.  Instead, we placed him on a new team that better matched his talents.  He went from underperforming to high performing trader.  Team Trading matters.
Patience is required- We do not expect traders to make money in the first year.  A very successful developing trader might make 250k in PnL in Year3.  It will take them, with only a few exceptions, until Year5 before they are tracking to become a seven-figure trader.  There is no substitute for the improvement power of screen time.
Resilience- Of all of the successful traders we have developed, they all have had very large setbacks.  One of our best traders, lost 350k in one afterhours decrying KBIO rocketing from 2 to 25, while short.  Another had an 180k drawdown at the start of the year, over-aggressively trading ETFs.  Each of these traders used their setback as an opportunity to improve and the ensuing pain as fuel to do the work required to become an even better trader.
Be Bionic- The best traders leverage technology to find more of their best setups.  Whether that is with custom filters they build or automated models, they embrace technology to play more offense with their trading edges.
Build from your strengths- You improve as a trader by trading your A+ trades more often and with more size.  The best traders know their best setups through study, work to master trades that accentuate their talents, have internalized these trades, and continually work to trade them bigger with a process.
We are one firm, trading mostly actively short-term, at one location, at one moment in time, and certainly do not have all the answers.  There are many different ways to attack markets.  This is what we have learned coaching/mentoring new traders to consistently profitable trader and then high performing trader.
Related posts
A trading journal that works for you
How can I become more consistent as a trader?
Unconventional training for the unconventional trader
*no relevant positions