Hey Mike,
Hope all is going well since we last spoke!  I had a quick question for you that I knew you would be able to answer with ease with regard to watching the tape and getting shaken out.  I've been trading on the LightSpeed simulator to better prepare myself for this summer when I take part in the 5-week training program remotely – this morning, I was trading VLO.  VLO exploded before Oil even began to rip, and I added a 200 lot @ 26.67 and when I saw that the 60c bid held, I added another 200 lot @ 26.66.  The stock ended up break to the 80c level which I knew would be an area of resistance (Friday HOD) and I took off half of my position to lock in some gains.  The stock immediately reversed back to the high 60c range and looked as though we could be in for a push lower with the selling volume on the tape, so I took off the other half of my position @ breakeven.  The stock hung then popped again back to 26.80 and eventually broke to 27.00 and then the daily chart resistance area at 27.20.  I found myself frustrated that I ended up missing most of this move, and because I was watching another stock (LVS), I missed the reload area at the pullback off of 27.00.
My question after setting up this scenario for you is, primarily, how do I hang on to this move by watching the tape and NOT get shaken out of my position?  Thanks in advance, and I look forward to chatting with you soon!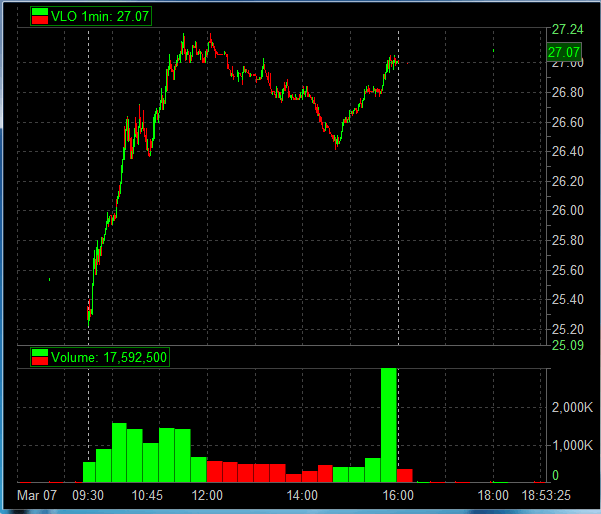 BELLA
A couple of things:
1) I am not crazy about you trading for what is effectively 14c of upside (26.66 to 26.80).  You want to find plays that offer more upside.  Spend your mental capital on a position that can offer more reward.
2) When you bang out of a stock, never leave it without asking: Where is a great long?  Where is a great short?  Set alerts for those prices.  You have paid for important trading information with your past trades.  Maximize this investment.
3) If you set a stop and your stock hits that stop, then get out.   This is one of the trading fundamentals for making One Good Trade. Perhaps for going forward, reevaluate how your determined that stop.  But you do not stay in stocks that are trading against your stop.  There is no working on staying in stocks that have traded past your stop.  There is exiting.  Only exiting for these trades.
Get used to this.  You are gonna have a lot more losing trades.  This is all part of trading.
Spend more time on the supermodel looking setups.  The plays that trend and trend cleanly.  New and developing traders can spend more time frustrated with shakeouts, trying to make sense of them, and not enough time mastering the best set ups.  You make coin in your best setups at the end of the month.  Very few traders make a good living mastering the hardest of set ups, those frustrating shakeout moves.
Bella
*No relevant positions