CrossHairsTrader wrote this thorough review of One Good Trade: Inside the Highly Competitive World of Proprietary Trading (Wiley Trading)
:

When I assess the quality of a book I ask myself four questions:
1. Did the author teach me something I did not already know?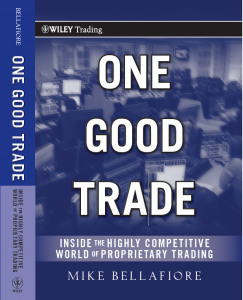 2. Did the author reinforce much of what I already know?
3. Did the author leave me with the desire to learn more?
4. Do I believe others can gain from the author's insights?
If I can answer in the affirmative to all four then the author has provided me something of value worth much more than the discounted Amazon price. I informed Mike "Bella" fiore two weeks ago that I had ordered his book and once received would write a review of what I thought. This past weekend I devoured ONE GOOD TRADE, or as I will refer to it here OGT, seeking to answer the questions I require of a book worth recommending to other traders and would be traders. Let's see how the questions were answered.