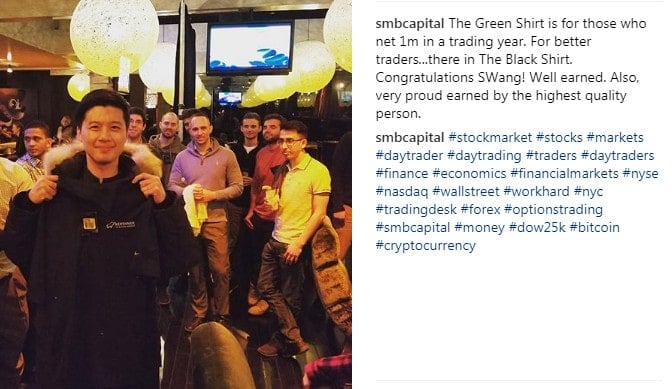 There is a Green Shirt that hangs on the wall of our trading floor.  You earn the Green Shirt for posting 1m net in trading profits.
And then there is the Black Shirt.  For that a firm trader must earn north of 2m in net profits.
The firm challenged the trader above, a Black Shirt recipient for 2017, approximately 4 years ago to make 30k in a month.  We called it the 30k challenge for our developing and younger traders.  It has been fun to see some of them progress so much to earn a Green Shirt and Black Shirt.
How did this trader improve so dramatically to earn a Black Shirt?
Sizing.  He trades much larger, focusing on the same trades he was making years ago.
Team Trading.  His Team helps him make so much more.
Technology.  We are fortunate to partner with Kershner Trading Group, who has built the best technology on the Street in our space.  Filters, scripts, models allow traders to play more offense in the markets.
7-Figure Traders around him.  He trades better because the traders around him have improved dramatically as well.
Capital.  He has a very large trading book, one of the largest on the Street for day trading.
Building from his strengths.  He has a particular talent that he expresses in markets.
Coaching.  This trader has the good fortune to be coached by Dr. Steenbarger, who works with some of the biggest and best traders in the world.
From my seat……
Capital really helps you make more.  Technology really helps you make more.  An improved trading environment really helps you make more.  Team trading really helps you make more.  Sizing up in your strengths really helps you make more.  Coaching really matters.
Now that next level is: 8-figure trader.
Your comments/feedback/questions are welcome- [email protected].
*no relevant positions