BA gapped up on good news but then started an intraday downtrend. Then it found a range from between 72.15 to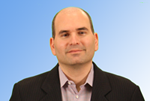 72.40. ALJ who sits behind me, aka Mr. Photogenic, started a long position. I started a short position. Same stock. Not five feet from each other. I knew exactly his position and reasoning without dissent. His mentor short and holding.
I saw BA as in a downtrend intraday and consolidating just for a lower move, with a very weak market. I love this play! This is a Trade2Hold short for me, with a downside of 10c and an upside of at least 75c. Bella short BA from 72.40.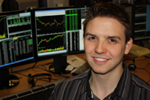 Mr. Photogenic was long. He saw soooo much buying on the tape that he valued this more than the intraday downtrend. Also BA has a history of reversing. And the downtrend was young. I remarked,"I don't have a problem with you being long." (Dope!)
Ok I was just kidding about the dope comment. As way of background ALJ can dish out the verbal jabs with the best of the prop traders (you should hear how he attacks poor JToma). But he had a compelling reason to be long BA. His trade made sense to him. So this was a good trade for him.
Even if he was completely wrong and BA is still creeping lower! 🙂