The past two trading days there has been tremendous price action in XLE, crude, and related equities.  I am not an expert on energy but I do know that 80 and now 77 are very important levels for XLE.  Below 80 and 77 and you should look for weakness in the energy stocks.  Above 80 and 77 and you should look for strength. 
Below is a two day chart of XLE and you can see it move aggressively below and above that 80 level.  80 is the more important level in the XLE.  But you ought to have an alert set for these levels.  And a few corresponding stocks ready to trade above and below 80 and 77: CHK, HK, VLO, XOM, etc.  These stocks tend to correlate with XLE (VLO inversely).   Also, watch the price of the barrel contemporaneously as an indicator for these corresponding stocks.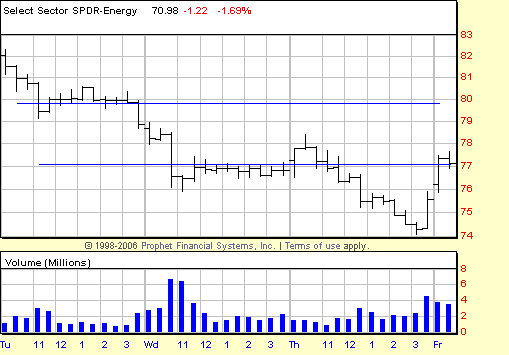 Tomorrow we will use those levels in XLE to gain an advantage trading energy securities.  Good luck with your trading!