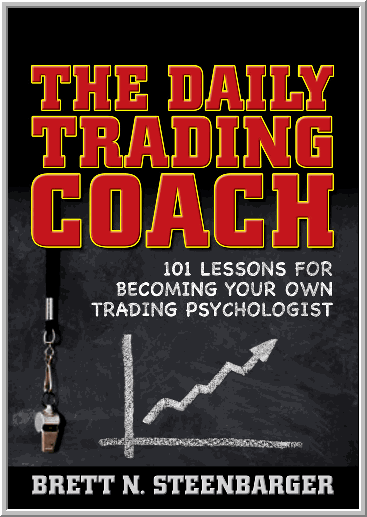 "The Daily Trading Coach-  101 Lessons for Becoming Your Own Trading Psychologist", written by Dr. Steenbarger is now being shipped by Amazon.   We have our orders in at SMB.  I cannot wait for my copy to arrive.
A few months ago I received an email from Dr. Steenbarger asking me if I would like to participate in his next book.  Dr. Steenbarger has visited our firm and offered ways to improve our training.  Dr. Steenbarger has answered numerous emails from me about how we can get better.  Dr. Steenbarger has taken personal phone calls from Steve and me about how we can train better.  Of course I was going to help.
But also I found the subject interesting.  Dr. Steenbarger asked me to share things that I do regularly to help my own trading.  Chapter Nine in his new book is a compilation of ideas from trading professionals on what they do that helps their trading.  These are ideas from real traders.  Traders who trade everyday and in today's market.  These are traders whose ideas I want to read.
I spent the better part of the next five days working on my contribution.  I had one of our interns provide research assistance.  And we sent it in.  It was an assignment I enjoyed.
Dr. Steenbarger has announced the list of professional traders on his website.  My favorite post about the contributing traders is from Firebird who wrote, "Wow! This is like a dream team of trading!" So who would I be on this dream team?  I was kind of hoping that I could be Chris Mullin.  I was a huge St. John's fan growing up on Long Island.  I remember sitting in the blue seats with my dad at the Garden watching Mullin's teams battle the great Ewing teams.  There was Louie with his lucky sweaters.  Remember John Thompson teasing Louie wearing a copycat sweater?   And I can really shoot the ball so I think I ought to be him.  It is an impressive list of traders.  I hope you enjoy my contribution.
I have been trading for eleven years.  I have traded my own account for about a decade.  I have traded through the Asian financial crisis, the tech boom, the Internet bubble, 9/11, a range bound market, and the sub-prime mortgage mess.  I have been positive every single month in the past five years, save one.  Currently I have not had a negative trading day in over five weeks.  I have read hundreds of books on coaching and trading.  I have a law degree.  I run a trading firm that is recognized for its exceptional training program.  When I need advice, I contact the best trading teacher that I know.  I contact Dr. Steenbarger.
On a personal note Dr. Steenbarger has never once been unavailable to help us.  He is not paid for his work with SMB.  On a light note, Dr. Steenbarger signs every email and answers every phone call with Brett.  He tries to get me to call him Brett.  That will never happen.  Derek Jeter calls Joe Torre "Mr. Torre".  They have known each other every since Jeter broke into the league as a 21 year-old rookie SS.  They have won four world championships together.  To this day Jeter refuses to call Joe Torre "Joe".  To Derek Jeter he is always "Mr. Torre".  And to me Dr. Steenbarger will always be Dr. Steenbarger.
I have had the opportunity to read some of Dr. Steenbarger's book.  It is excellent.  My favorite part is when he makes fun of me.  But I am not gonna give away why.  Pick up the book.  It will be a great read.