The market has been on a tear in 2017. On the rare occasion the market has a 1 or 2 percent pull back people are tripping over each other to buy! This environment leads to large runups in what I call "junk stocks". They are low priced stocks, under $5, that have very small floats. The are easily manipulated because it take little capital to scoop up a large percentage of the float.
MNKD is one such stock. It tripled in three trading days this week. On Thursday it had a "blow off" top. This means that after trending higher for a couple of days more and more people piled on until the price went vertical. It then strongly reversed trading $2 lower intraday. This is one of my favorite setups for a short trade the following day. It is easy to define your risk based on the prior day's trading range, and many pro traders will look to get short now that the stock has begun to show weakness.
Here is the discussion during our AM Meeting on a way to approach this short idea.
As you can see from the charts below the price action was pretty close to matching up with the description from our AM Meeting. Similar setups often produce similar results.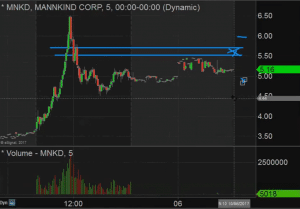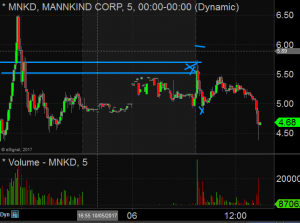 The key to this trade is understanding that the change in price action the prior day increases the likelihood of further downside and helps the trader clearly define their risk. For more great risk/reward setups check out our AM Meeting HERE.
Steven Spencer is the co-founder of SMB Capital and SMB University which provides trading education in stocks, options, forex and futures. He has traded professionally for 21 years. His email address is: [email protected]
No relevant positions


Please follow and like us: