You are not satisfied with your trading progress.  You want to do better. You know you can. But you are not sure how. And you hear and read at this time of year all about setting goals so that you make the progress that you deserve to make.  But you are not sure how to go about setting goals or which ones to set.
In this blog post, we offer a blueprint to help you set your 2020 trading goals.    
James Clear author of one of the best new books in 2019 Atomic Habits wrote:
"New goals don't deliver new results. New lifestyles do. And a lifestyle is a process not an outcome….For this reason, all of your energy should go into building better habits and not chasing better results."
I highly recommend you read Atomic Habits by James Clear, if you have not already, and subscribe to his monthly newsletter.  Build better habits to drive performance in 2020.  
One of the top traders I coach, his trader nickname is Legend, shared this important passage with me by Gary Keller, founder of Keller Williams, which is the largest real estate company in the world:
"….individuals with written goals were 39.5 percent more likely to succeed. But there's more to the story. Individuals who wrote their goals and sent progress reports to friends were 76.7 percent more likely to achieve them. As effective as writing down your goals can be, simply sharing your progress toward your goals with someone regularly even just a friend, makes you almost twice as effective. Accountability works!" 

K. Anders Ericsson, professor of psychology at Florida State University, has published research on expert performance confirming the same relationship between elite performance and coaching. He observed that "the single most important difference between these amateurs and the…. groups of elite performers is that the future elite performers seek out teachers and coaches and engage in supervised training, whereas the amateurs rarely engage in similar types of practice."
Share your goals with others.  Consider creating a Team to help you reach your goals.
As many of you know, we are so fortunate to work with Dr. Brett Steenbarger at our firm, who coaches all of our traders, and is an invaluable resource to the partners and managers at SMB Capital.   In a recent Forbes article Does Your Goal Setting Have 2020 Vision?, Dr. Steenbarger wrote:
"A great start to planning for the year is to take stock of the experiences that were most energizing and inspiring for you during the past 12 months. Those reflect your values and your strengths, and they are the building blocks from which you can create your 2020 vision."
As an aside, I agree wholeheartedly with this tweet from Steven Goldstein a UK-based trading coach: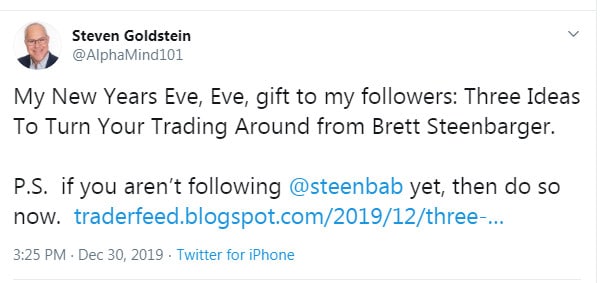 Taking the advice of Dr. Steenbarger, I sat down and noted what brought me the most joy in 2019.  And then used this list to help craft my goals for 2020.
For example, I noted that I enjoy learning by listening to books and podcasts. Thus, I made sure to include in my daily process for my 2020 goals: walk to and from work and listen to audible and podcasts.
For example, I loved going to London, doing an event there for the trading community, and experiencing a new trading culture. Therefore, I have planned another event in Amsterdam this year.
For example, I do not like mindlessly getting sucked into browsing the internet and wasting time.  I have noticed the negative effect this can have on my productivity. Fatefully, I am presently reading Deep Work by Cal Newport that spotlights the danger to one's career if we work repeatedly while distracted. So I have created a goal in 2020 to solve this problem.  I have added a website blocker (Freedom) to my desktop that blocks certain sites during specified time intervals, so I do not get sucked mindlessly into web surfing and work while distracted.    
For example, I enjoy taking new courses both online and in-person to help me grow. I have signed up for two in 2020 already.
Build your goals from what you enjoy most.  This identifies our talents and interests, which lead to us doing our best work.
One of the more popular videos we produced in 2019 for the trading community was 20 Habits that are essential to become a Highly Profitable Trader (assuming you do not want to fail).  You can find a cheat sheet of these 20 habits left by faithful viewer in the YouTube comments.  Those comments read……
Thanks Mike for a great video. Here is the list for quick reference 
Playbook

Tape reading

Mindfulness

Sleep properly

TraderVue

Book Of Charts

Exercise

Diet

Mentoring Sessions

Technology

AM Prep

Daily Report Card

Talk to traders

Game Plan Big Trades

Game Plan B4 AM meeting

Daily Gratitude

Train Your Brain

Relationships

Learn Daily

RIP thru charts (end)
This list provides you with ideas to add to your daily process that will drive results in 2020.
Place your habits on a calendar! Notice how I did not just say I want to listen to more books and podcasts because I enjoy learning….. and then stop there. I plan the time I will do this daily. I place listening to audible or podcasts physically on my calendar.  Also, I anchor the activity with another excellent habit of walking to and from work ensuring that I will indeed get this done daily.  If it is not on your calendar, then you are not committing to turning an effective best practice into a habit.  
One important note.  There will be days when you do not execute on your daily routine.  You are human. And this will happen. Don't beat yourself up for missing one day.  Just no two bad days in a row.  
Let me offer an idea for you to consider to help you improve your trading in 2020, before we review how to set your trading goals this year.  
Perhaps you need to improve on your stock selection in 2020.  
Perhaps you need some help with your trading psychology. 
Perhaps your Risk Management is still a work in progress. 
Maybe you do not know how to review your trading like a professional trader.
Or you get stuck trying to figure out how to size properly.
Or you struggle with trading consistency. 
Or you do not know how to build your trading business.  
Or you need access to some trades with edge and do not know where to turn.
Well feel free to check out our SMB Capital YouTube channel for some help.  And consider taking a more serious step and check out SMB DNA where you learn to master all of those things above.  At Tradingworkshop.com you can sign up for our free 2 hour webinar where you will learn three setups that we use daily on our proprietary trading desk in NYC and share the value to you of our trader training course- SMB DNA.
James Clear wrote in a recent newsletter, citing his best selling book, Atomic Habits:
"You do not rise to the level of your goals. You fall to the level of your systems.

Your goal is your desired outcome. Your system is the collection of daily habits that will get you there.

This year, spend less time focusing on outcomes and more time focusing on the habits that precede the results."
In 2020, focus on crushing executing your process goals!
SMB Challenge 
Watch our video 20 Habits that are essential to become a Highly Profitable Trader (assuming you do not want to fail).

Write down all the things that brought you the most enjoyment in 2019.

Now create a daily routine filled with best practices to help you improve your trading in 2020.

Find a spot on your calendar for each of these items.

Each day send a daily report to close trading colleagues, your trading Team, on whether you successfully completed your daily routine.  

Focus on crushing your process goals that will drive improved performance in 2020!
As I wrote to close my second trading book, The PlayBook, "You can be better tomorrow than you are today!"  Plan to make that happen in 2020.  
Happy New Year from all of us at SMB.  We wish you a year of elite training and trading in 2020!
*no relevant positions