This is a guest post from one of our traders, SW, about his trading day from Tuesday:
A senior trader CB came to me after the close in regards of my recent performance. I expressed my frustration and disgust in missing  an "A trade". At SMB, we are taught to grade our trading setups A, B, and C, for purposes of proper risk management — betting the most on your best trades.
After going over my recent trades, CB explained to me that being stopped out frequently in C-B trades has been clouding my judgments in A trades. I started to trade fearfully in A trades, and took profits pre-maturely when a trade was working for me. And it would move another 50c to $1 without me. Why? Because I was too afraid that that they will run my stops. I broke my plan when my emotions got in my way.
CB advised that my trades were fine, and my plans were fine, but I have to stick to my plans and trade more selectively. CB also noticed I was involved in the harder-to-trade stocks.
In the long run, trading is a game of probability. I should not let C and B trades cloud my judgment in A trades. Stick to the plan and keep execute.
Below is my analysis that PCX is not a flat, if short from 12.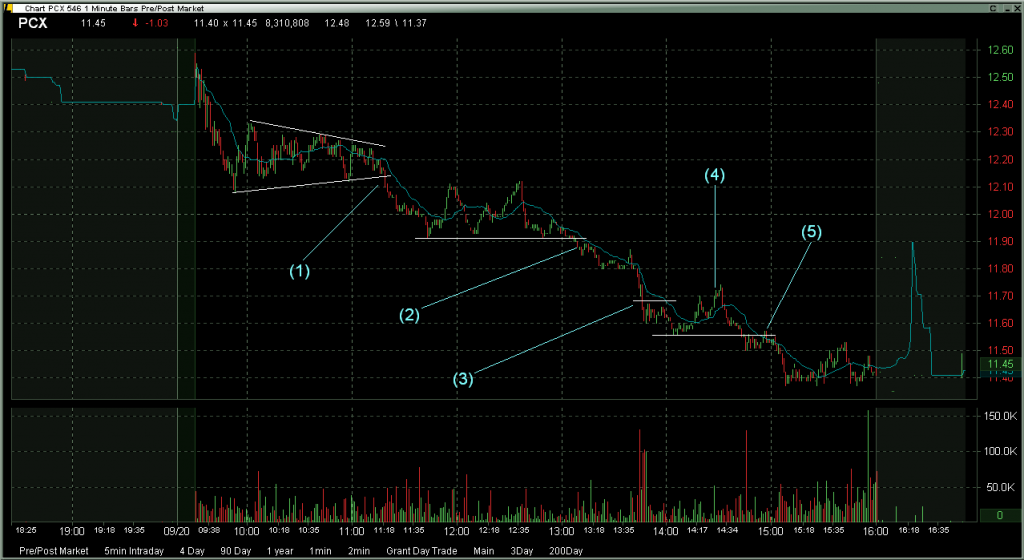 1) Get short (break down & below yesterday's low)
2) Get shorter (break down at the low)
3) Get even shorter (below 200day low)
4) Lighten up
5) Get back in