*****Editor's note: Jake Huska is a college student working on his trading game. At SMB we believe traders should start working on their trading game early, just like pro athletes. Jake's posts reflect a better journey toward becoming a pro trader for the college student with a passion for trading.*****
About a month ago I shared my trade review for HTZ. In that review, I mentioned the importance of identifying important intraday levels as well as considering support and resistance levels on the bigger time frame. HTZ was gapping down on Tuesday (11/5) and met my intraday trading criteria, and hence, was on my radar. However, the real reason I was confident that HTZ would provide some decent intraday opportunities that day was because of my recent experience with the stock. The main thing I remember when I last traded the stock in October was it getting crushed and overshooting my downside targets. This memory and experience gave me that extra conviction to risk more in the trade.
So what was the trade? On the days following its recent gap down on 9/26, HTZ developed some support at $21.50. Below this $21.50, my downside target zone was $20.60-$20.80 based on the daily chart. The stock got crushed right off the open on Tuesday, trending down over $1.80. Around 10:30am, the stock had developed a range between $22 and the important $21.50 level. The stock had clearly shown weakness on the open, was below VWAP, and was having trouble at $22 on the tape, so I got short with 25 cents of risk. I pretty much had the size I wanted, but I knew if there was a tight consolidation below $21.50 I would look to put on even more size. But I wanted to be in the trade before it had actually taken out that $21.50 support level because I felt there was a high probability of it taking out that support, and I had defined my risk if I was wrong.
To make a long story short, the stock got crushed just as it had gotten crushed back on 9/26. I took some covers at $20.80, $20.50, and got flat on the vertical down move below $20. There was actually a nice $2 reversal bounce trade after its vertical move to the downside, but I was off the desk during that time.
Daily chart of HTZ:
Five-minute, intraday chart of HTZ: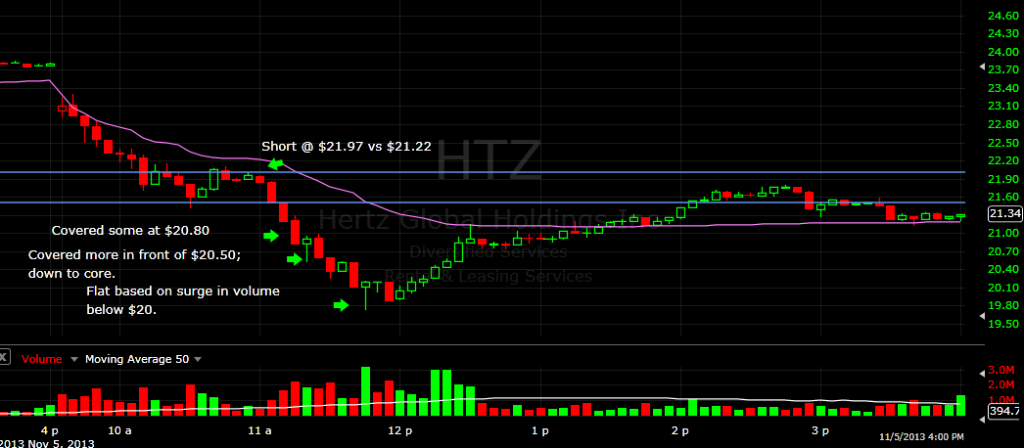 The main idea that I wanted to share is try to create a note of how a stock trades so you can reference that information in the future. I would recommend you even write down how a particular stock tends to trade and/or your overall success with the stock. Personally, I am trying to get more in the habit of actually writing down how a stock has traded versus just making a mental note in order to have a more detailed insight into my past performance.
I hope this can help you in your own trading! You can read my tweets at my StockTwits page.
Jake Huska
Related blog posts:
Improve Our Performance by Watching
Knowing Your Risk on Multiple Time Frames
No relevant positions