I have missed the past two trading days because of the flu. I know what some of your are thinking. Hmmm. Bella loves watching golf. And he is always blogging about how much he loves that Phil Mickelson. And Phil made a run at the Open today. The US Open was just in Bethpage. Was this the US Open Flu?
Unfortunately it wasn't. But I am now officially better. And a little disappointed that I missed the action in RIMM and APPL the past few days. GMan wrote a great blog about hanging in there and grinding it out in RIMM.
As an intraday trader I have learned information gained from watching my stocks print and trade was superior to the charts. I ripped through some charts after the close in preparing for tomorrow's trading. It is hard not to notice that everything traded down today. And most of everything finished near its lows. GS, WFC, RIMM, AAPL, IBM. All the bigger stocks were sold.
And now from a technical standpoint I know that SPY 88.50 is important. Technically, we should bounce off of SPY 88.50.  SPY traded between 88.50-93 for awhile before finally breaking out. We should especially bounce off of this level the first time.
But I must do more than just get ready to play a bounce off of 88.50. 1) Will the bounce start above 88.50? If so what will I look for to enter this trade? 2) Is there some selling in the market that should cause me pause to play the 88.50 SPY bounce? I need to talk with the guys on our desk who have seen the selling to make a better determination. 3) What stocks will I play for a bounce? IMB, GS, RIMM, APPL, FCX, WFC seem the most obvious, but I must look through my charts to find the best stocks for me. 4) We are still a distance from 88.50. How can I make money on the short side down to 88.50? 5) What happens if we break 88.50 SPY? What is my trade then?
Remember if you are playing for a bounce of 88.50 SPY, have a list of stocks ready to go with great prices. Near 88.50 buy just a taste of the stocks you wish to trade. Wait for SPY to hold higher. See which of the stocks that you bought a taste of are trading the strongest. Buy more of these stocks. Below 88.50 SPY you must exit your stocks. Set plans to exit your stocks if they trade in your favor.
Tonight is a night to start preparing for the possibility of a bounce off of SPY 88.50. Best of luck!
Don't forget to follow us on Twitter!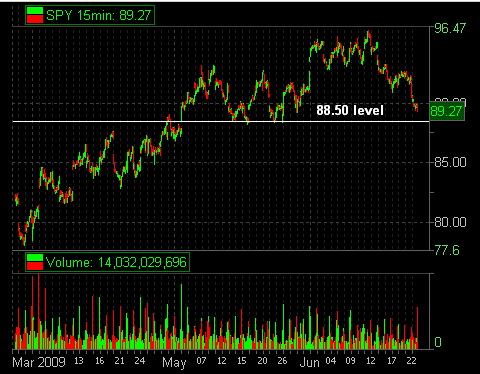 Please follow and like us: