This morning I got to the office a bit tired and not in the greatest of moods. I am not a big fan of bitter cold temperatures as my hands and feet tend to stay cold once they get that way! So the past couple of days let's just say I haven't been as quick on the key board as I normally am. I arrived at the office about 15 minutes late after dealing with some typical NYC subway delays. As I sat down at my trading station the first thing that was said to me was "TWTR got another downgrade". I was long some overnight. Next thing I saw on my screen was "JC Penney sells off despite management confidence in holiday sales." I was long some overnight. None of my other positions were up or down much overnight.
I began to prepare for the SMB AM Meeting which was set to begin in less than 30 minutes. There were actually quite a few stocks moving in the pre-market including MU which had reported excellent earnings. I forgot to mention that I had bought MU yesterday in the after hours as a swing position, but accidentally sold the entire position while I was on a conference call and not completely focused on my trading platform. The position would have negated about 50% of the negative PnL mark from JCP and TWTR, so that key stroke error didn't do wonders for my mood either.
Any experienced trader will tell you that how you begin the day from a PnL standpoint can impact your decision making process. If you start down a significant amount of money you can be "gun shy" so as not to dig yourself into a deeper hole. If you start up money you may use that PnL to try to press your advantage in the market. I was faced with not an insignificant hole to dig out of and the question I would need to answer was how would I respond.
In the AM Meeting we discussed FRX, TSLA, TWTR, JCP as stocks with fresh news. Other stocks on my radar were FEYE, AAPL, APOL, ADBE, P, NFLX and BBRY.
As the market opened I was watching TWTR closely for a bounce from 59 as this is the level where it started its march back to 70 at the end of December. I didn't have a good feeling about history possibly repeating itself. A price alert was triggered at 49.30 in TSLA and I punched it up. As it lifted 49.50 I paid the offer and was immediately rewarded with a 2 point pop.
I opened short positions in FRX, BBRY, and APOL all of which immediately began to trade in my favor.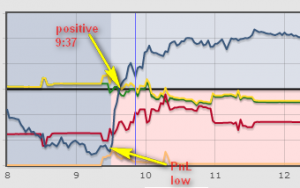 By 9:37 I was positive and trending on a strong upward trajectory. I had been the opposite of gun shy, taking every trade setup that triggered, and was rewarded for my persistance.  (I had no idea of my PnL at the time but I can look at our software later to see exactly where I stood at any point in time during the day).
In addition to all of the fresh positions I initiated there were several other overnights that began to move and needed to be managed. The first 15 minutes of trading today was action packed and probably bodes well for earnings season that is just around the corner.
By the time I was able to poke my head up for air I had liquidated most of the fresh positions outlined in the charts below and started to scan SMB Radar for other opportunities. The day overall turned out to be fairly slow including after the FED minutes were released. I joked on the desk that I was initiating a SPY position partly out of boredom. It turned out my initial long in SPY was stopped out but I did get back in at the LOD at 183 and am swinging some for a possible breakout tomorrow and the start of the first up leg of 2014.
Please feel free to ask questions in the comments section on any of the trades in this post as I will be creating several "2 Minute Trade Review" videos and am happy to cover the stocks you are most interested in.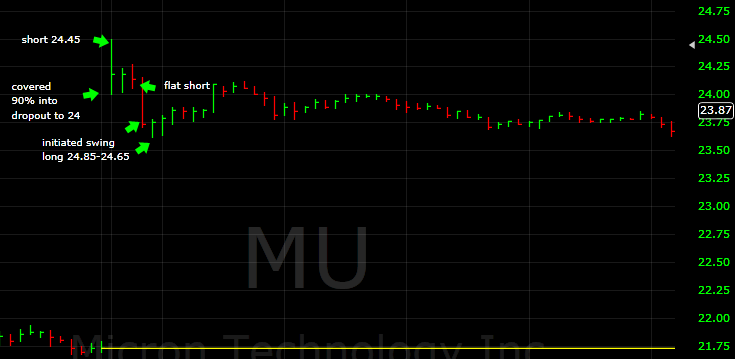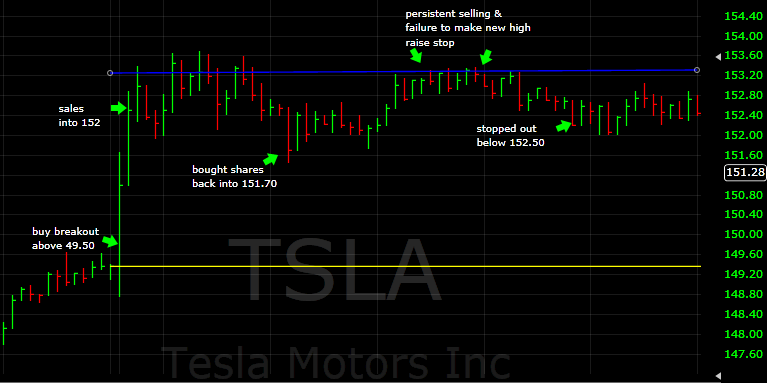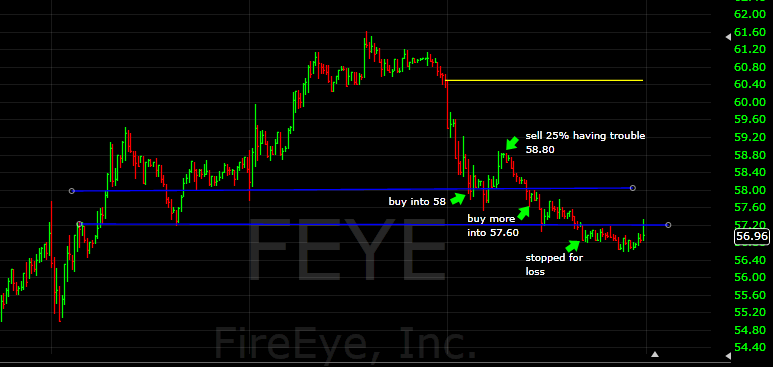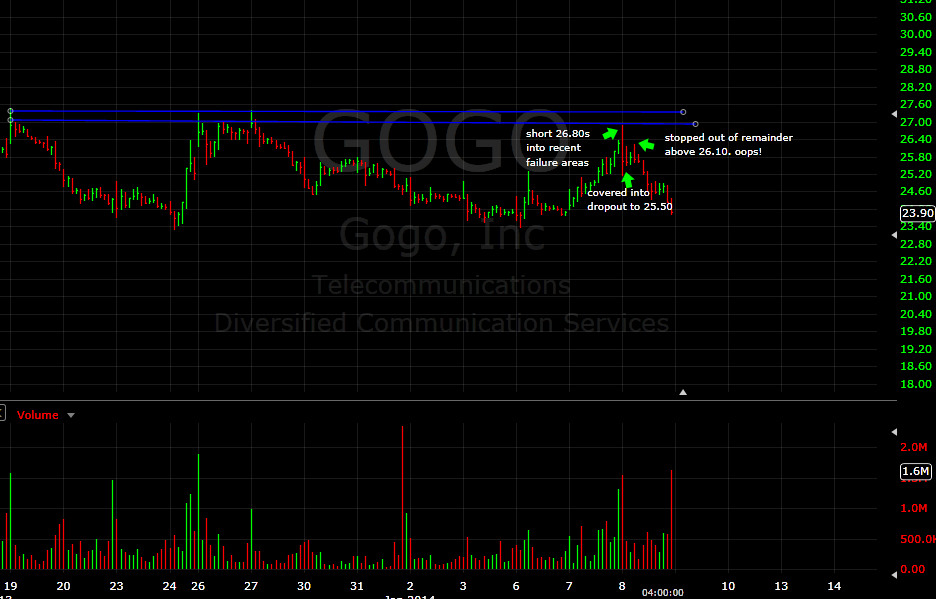 Steven Spencer is the co-founder of SMB Capital and SMB University which provides trading education in stocks, options, forex and futures. He has traded professionally for 17 years. His email address is: [email protected]
Steven Spencer is currently long MU, ADBE, P, JCP, CROX, F, RH, AAPL, SPY and short BBRY
Learn the skills necessary to identify and manage trades like these in our 10 week mentoring program. Click on banner below for details on next session in January 2014.
Please follow and like us: