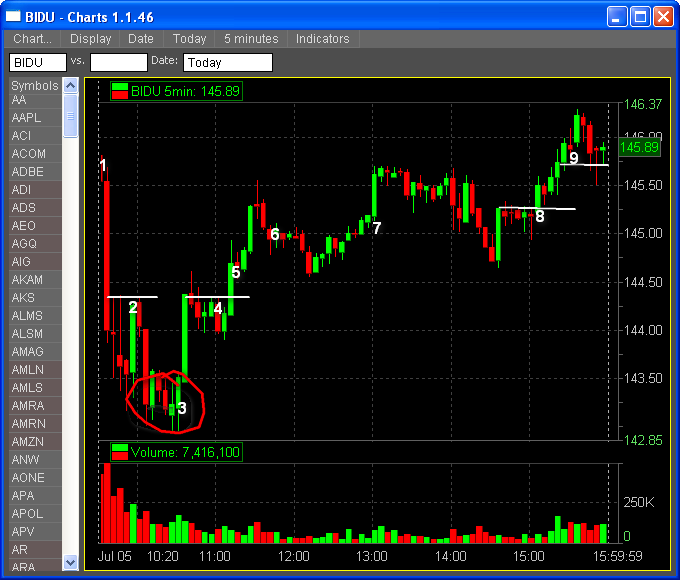 Here was my thought process in BIDU today.
1. BIDU is below the important Premarket support so I am looking for an Opening Drive to the downside.  I feel very smart after the 3 point downmove.
2.  BIDU bounces after it fills the gap but I find an area of intraday R.  I feel very smart after finding this level and BIDU trades to the lows.
3. Accumulation at the gap fill near 143.25ish.  There is a break to the downside but then 143 mans up and BIDU cannot hold the offer below this level.  My sense is this level will crack and holding our shorts is the better plan.  Stopped out 56c, 61c, 66c, 76c.
As I reflect on this trade it was the failure to plow through the 143 level that turned BIDU.  BIDU had no trouble making new lows and breezing through levels on the open.  If 140 was to come today a better move through 143 should have come.  It didn't.  It was a lighten up at this level and watch.  Trading mistake made.
4. Again we find intraday R at the 144.30 level.  My intuition tells me that the buying at 143 pushes BIDU through this level.  But the right play is to short again respecting the level.  Stopped out above 144.50.  My intuition was correct but I couldn't overvalue it over a definable level.
5. Best Play of the Day.  Now BIDU is in an intraday uptrend.  Long and set stops below 144.25 and Trade2Hold until 146.50 potentially.  BIDU is in a longterm uptrend.  The 3.5 downmove might have just been some quick profit taking.  Now I am on the side of the longterm and intraday charts.  I am in control.   I love this trade!
6.  I want to buy the pullback after the last explosive move.  We are in an intraday uptrend.  We moved away agressively from the 144.40 level.  Stops 89c, 84c, 74c all get triggered from this add to our core position.  Did I buy too early?  Is the real level closer to the 144.50ish level?  Answer turns out to be yes today.   But I still have to buy the 145 level based on how much I loved the break above 144.50.   Excellent loss taken here.
7. Add when BIDU holds above 145.  Target is 146.50.  Result: stopped out.  Right trade, poor result.
8. My intuition tells me BIDU is ready to fail.  This was a support level from the uptrend that was broken.  Now BIDU will fail from this price and I will get stopped out of my core below a 144.50.  Sit on the long while aware that our position is not as strong as previously.
9. We are gonna find near 146.50.  Has the market bailed out my position?  Or is this 144.50ish the new level to watch in BIDU?

Mike Bellafiore
Author, One Good Trade
Please follow and like us: