Thanks for all the submissions regarding the DG reversal trade that occurred on December 12th. This post was written by a college student who participated in one of the SMB College Training Programs last Summer. Although the post is short and to the point I think Tim captures some of the key elements we look for in a low risk reversal trade. Tomorrow we will see a post written from a far more experienced trader.
DG Reversal Rehearsal
By Tim Palmer
DG has been in play and offered many tradable setups during the last two days both on the long and the short side.
In addition offering some excellent risk reward opportunities on Tuesday, DG also gave us some valuable information and important price levels for a second day play. 43.50 and 43 were important levels/ inflection points.
Wednesday DG offered opportunities on the long side to trade off these levels.
Possible long entries included
1. 10:50 am. Makes a higher low and then breaks trendline. Possible long entry although stock still weak. Better to cover shorts at this point.
2. Breaks cleanly through 43, an important level from the previous day. Nice long entry here to start a position. Gives us more confirmation that buyers are in control
3. Consolidates below 43.50. Important level from Tuesday. Breaks cleanly above and holds. Nice long entry or great chance to add to long.
(click on charts to enlarge)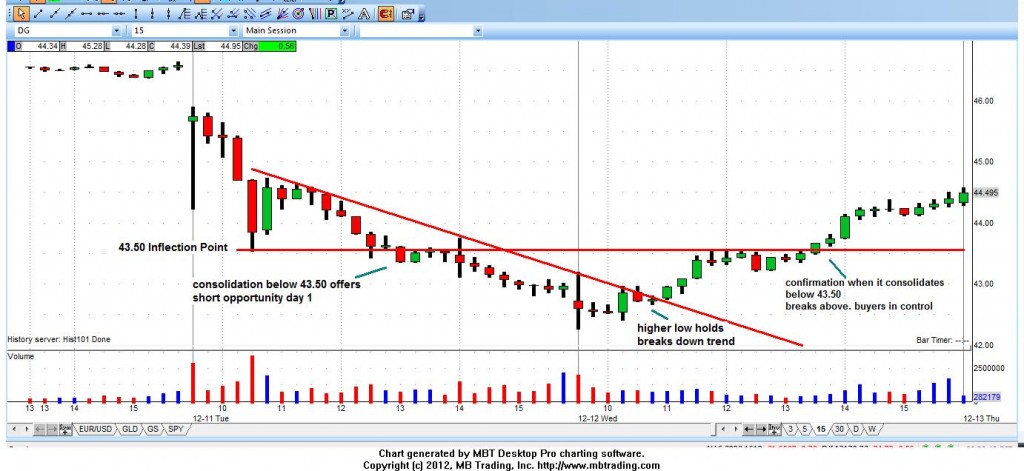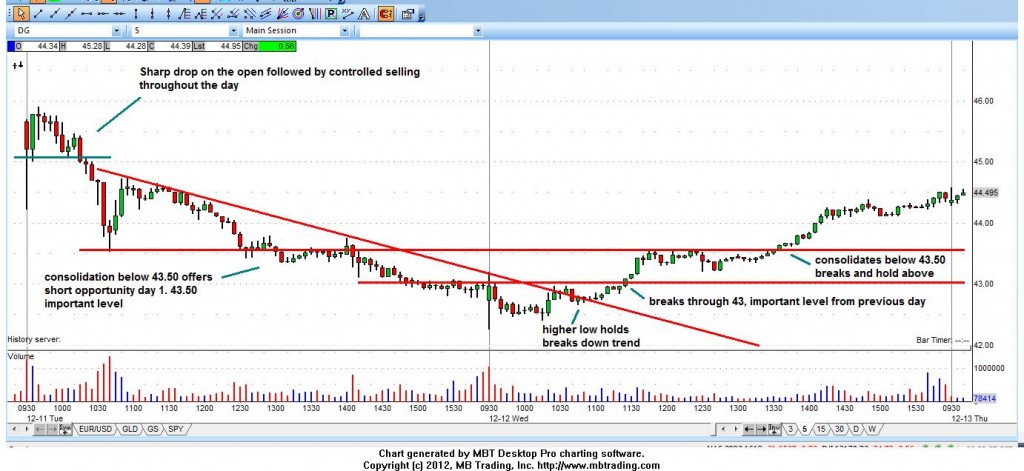 Steven Spencer is the co-founder of SMB Capital and SMB University and has traded professionally for 16 years. His email is [email protected]
No relevant positions
Please follow and like us: