In my last post, I stress the  importance of stock selection.  Easy money!  Bella mentioned CAT in one of his posts. CAT at the key levels of 30 and 29, is a perfect example of easy money and stock selection on three separate days.  Check the chart below.
All you needed to do was follow up,  know the key levels and execute.  It makes this job much easier when you are prepared and this type of preparation is easy.   We are looking for an edge and keeping track of levels or inflection points in a stock is KEY at making easy money.   I have a steno notebook that I keep next to me to put all this information in.  Every weekend I go through this book, recall the trades that I executed or remember the price action of these specific stocks and formulate a plan to trade these stocks at these levels.  One example was RIMM at 44.90 on January 14, 2009.  There was an unusual held bid that dropped twice but kept coming back to 44.90 (I hit this level for 10,000 shares two separate times to get short and the stock never went down more then 5 cents)  The next day I mention this in our morning meeting, I put my alerts in.   RIMM traded down to 44.85 and instead of having a short bias, I waited to see the price action and the person was still buying.  I bought and made good money; RIMM finished the day at 49.24.  Over the next month and half, RIMM gave us many opportunities to make good money off of different levels.  Then on Tuesday February 17th, RIMM approached the level of 44.90, my alert again went off and I watch the price action and the stock traded right through, but only by 25 cents, which is not a lot for RIMM.  Twice on Tuesday, I was able to use that level to make a some money.  Yesterday, RIMM traded below that level and I used that level as a basis to stay short the rest of the day.  My plan on Wednesday was once RIMM was convincingly below 44.90 (I want to see more sellers then buyers, Lower highs and lower lows) I was short.  Anything above, I want to be long.
One last example, is FCX, a stock that has had many key levels and infection points since December.  But a very easy play was FCX off of 27 on Tuesday and Wednesday.  Check the Chart.   Long above 27, short below.  On Tuesday you could have made many trades with very little risk for 25 to 45 cents profits.  And that is after missing a short play off of 28.40 level.  On Wednesday, once the 27 was breached, I was short  and made some money, but once it convincingly went over 27,  it was a long.
My point is to keep track of your important levels, have a plan, and execute.   Don't make this any harder than it needs to be.  If the stocks are not acting the way you planned, either move on or adapt.  There are many more key levels and inflections points for you to find.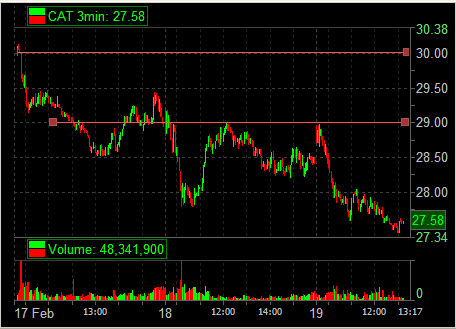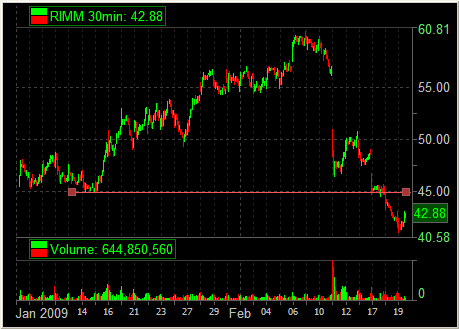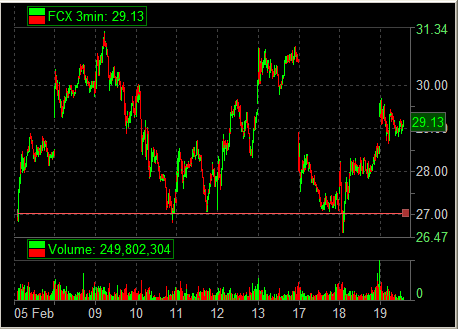 Please follow and like us: