Facebook had been an great swing short since Tuesday morning when it made a new post IPO low. It continued to make lower highs and lower lows. The definition of a "downtrend". You were hard pressed to spot two consecutive green bars on the 15 minute chart and the few times that did occur there was very little volume and almost no upward momentum in price. So if you were short and continuing to short you had the wind at your back.
As I looked at FB's action this morning it continued to behave very well as a short. The small gap up was sold aggressively on the Open and it made a new "all time" low. When I checked back in to see what it was doing at 1:00PM it had established a very clear consolidation range between 26.85 and 27.35. It had tried to establish a new low a few times but could not. Several failed attempts by a weak stock to make a new low does not make it a long, but as a short term trader it is important to start thinking about what you would need to see for it to become a long.
Here are some of the things I was looking for before getting long:  A change in the price action; increased volume on the up moves; a break of the downtrend on the 15 minute chart; higher highs and higher lows; behavior at prior inflection points from earlier in the day and prior day. This 30 minute chart below to illustrate some of these points.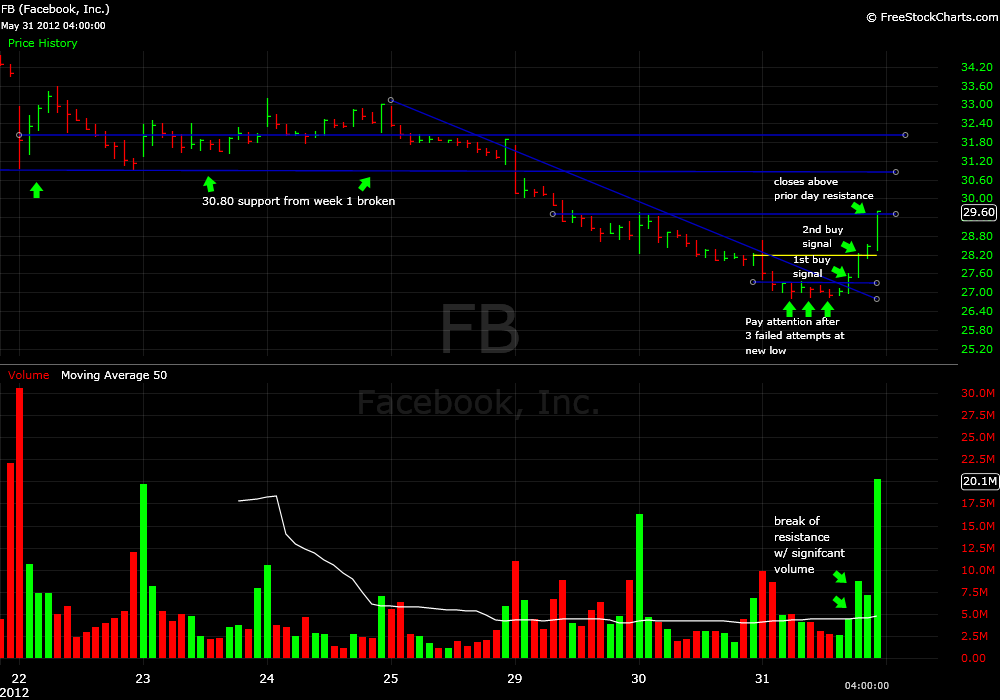 Look, FB was going to bounce at some point. There was really no way of knowing where and when it was going to happen. 30, 28, 25 it doesn't really matter. What matters is that as a trader you are prepared to stop shorting and start nibbling on the long side when buyers started to be more aggressive causing a change in the price action. In terms of managing your position you will use prior support levels as resistance and understand that once enough people realize it is finally bouncing that it will pick up a head of steam and that is when the "easy money" occurs. You never want to get flat a stock that is bouncing until you see the easy money. For today that would be at 29.50 where FB failed yesterday morning. For tomorrow if there is follow through that would probably be at least at 30.80.
FB is not going to trade back to the IPO price anytime soon but very easily can retrace to 32 to 33. Until the uptrend that was started today breaks focus on trading it long. A dream dropout tomorrow morning would be to 28.70 or so. I would look to risk about 25 cents from there holding for a move back up to 30.80.
Steven Spencer is the co-founder of SMB Capital and SMB University and has traded professionally for 16 years. His email is [email protected]
No relevant positions