I wanted to share a few trades that I executed this morning based on setups discussed in our AM Meeting. Two of the three trades were executed using programmable "scripts" to make it easier for me to manage many positions simultaneously. Once these positions are opened I can trade out of them manually or allow the scripts to continue to execute based on pre-determined profit targets and stops.
The first trade was a long in AAPL. This clip from our AM Meeting explains my thought process.
 
Once my script executed at 121.68 I needed to see price action that confirmed my view that AAPL would trade back to 124. I have marked up this chart at key areas to explain how I viewed AAPL's behavior.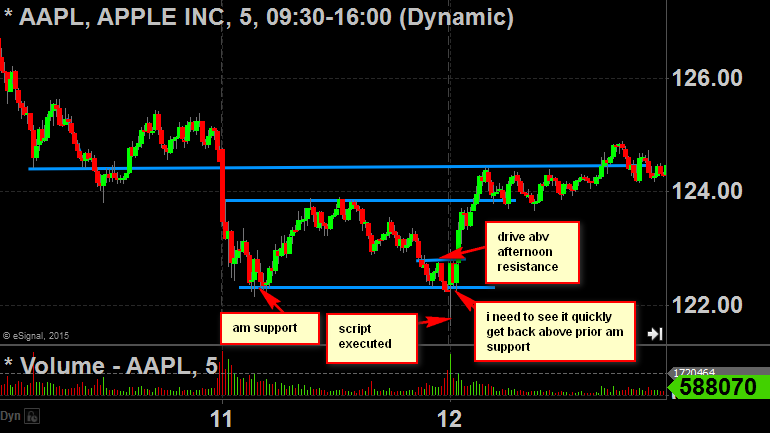 The second trade was a short in ACAD. Again, here is a clip from AM Meeting to give the trade some context.

Short trades can be somewhat dicier than longs but in the case of ACAD once it showed weakness below the key 36 level it trended lower for a few points. If it had failed to hold below 36 after the weakness highlighted on the chart I would have had less confidence that the trade was going to work.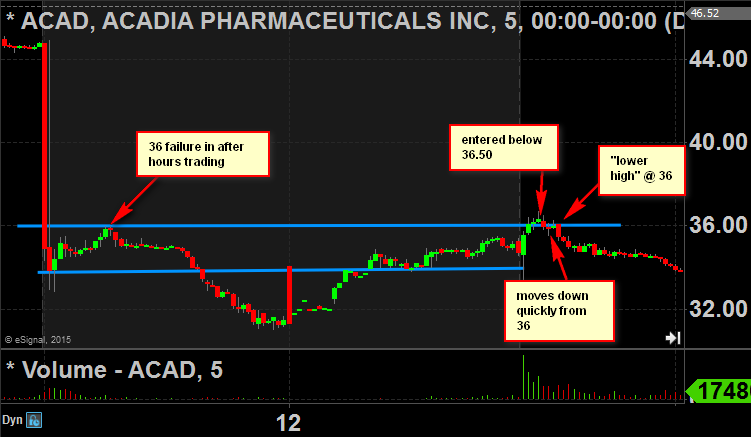 The final trade was in CYBR that priced a four million share secondary last night at 51. Here are my thoughts from the AM Meeting.

My order got executed at 50.58 as I was looking for a 50 cent drop below the secondary price to enter.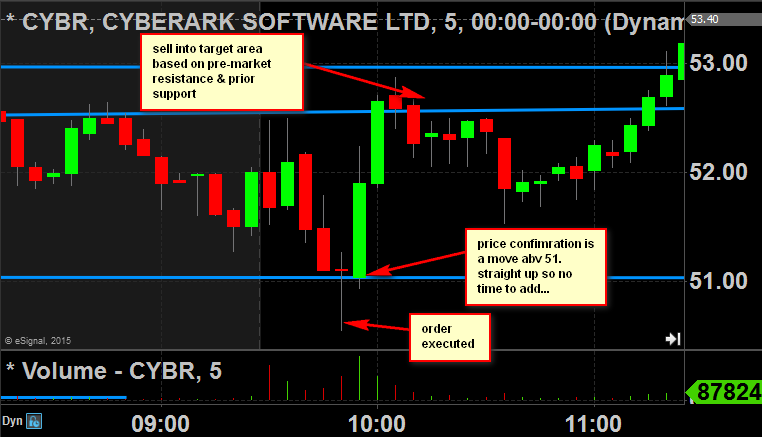 A couple of points to consider. Both of the long trades were entered fairly close to the market open when things are moving quickly. In that case you would like to see confirmation that the trade is working quickly. If within a few minutes of entry the stock hasn't moved above your key levels the likelihood of it working drop. The short trade in ACAD was a little later in the morning so it is fine to have an expectation that the price action will unfold more slowly to confirm the whether the trade will work.
We will cover Price Action and two other topics in greater depth during our March 16th webinar. Hope to see you there!
Steven Spencer is the co-founder of SMB Capital and SMB University which provides trading education in stocks, options, forex and futures. He has traded professionally for 18 years. His email address is: [email protected].
Steven Spencer is currently long AAPL