We've gotten great feedback as we share trades from our new Futures Desk as a Trade of The Day! Today we're back in my realm- that is, using Market Profile!
Simple lesson today. Sometimes trades try and work, then fail. BUT…. then they set up again! I like to see my guys stick with their game plans, and refrain from recency bias ("but the last trade didn't work").
ES (e-mini S&P 500 futures)
The main gameplan on the day was to have ES hold below 2714 to provide momentum down to the prior days "poor low". (A poor low is a low of day where there was not a very convincing reversal from.)
The trader tried the trade once (see first short entry marker), and it ultimately failed back above 2714.
The trader didn't start fighting the market or doing anything stupid
Later on in the session, the market gets back below 2714 and holds
The trader pounces on the opportunity, just as they had before
This time, they were rewarded with a move down into the target zone to "clean up" the poor low (market profile term)
Here's an intraday chart (2min chart) with the trade marked up on it: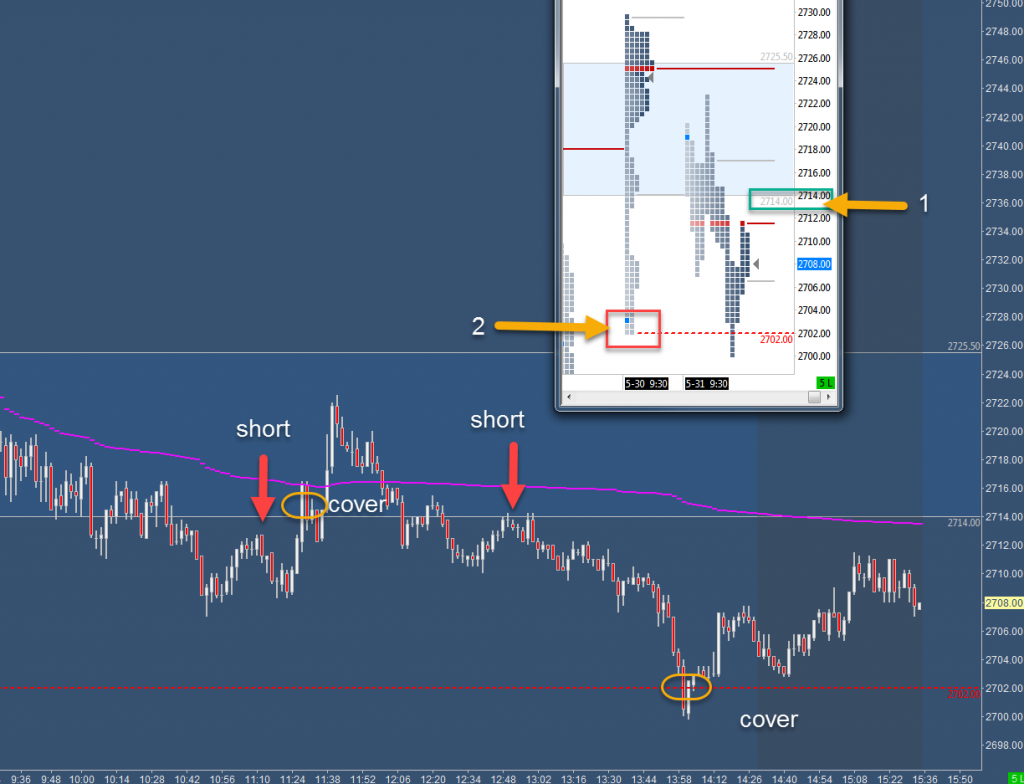 First look at the (white) Market Profile graphic. We can see the key line in the sand (green box), the poor low from the prior day (red box).
Now look at the (dark blue) intraday chart. We can see the first short, the stop out, then the patience displayed, then the re-entry short once it set back up. Great cover into the poor low at the LOD!
Join our community and be a part of the best futures community on the street. We run the room at cost, which means you pay your Slack membership fee which is a whopping $7/month.
Trade well,
Merritt
*No Relevant Positions