@MaxGanik sat down with @Bthestory87 (how do we get him a better Twitter handle?) in a wide-ranging interview about his young trading career.  Max has had the most trading success by Year2 of anyone we have trained at the firm.  As such, this interview provides tremendous value to the trading community.  One topic explored during this interview is Max's take on the advantages of trading at a prop firm.
Max noted the advantage of sitting around highly successful traders with this quote below….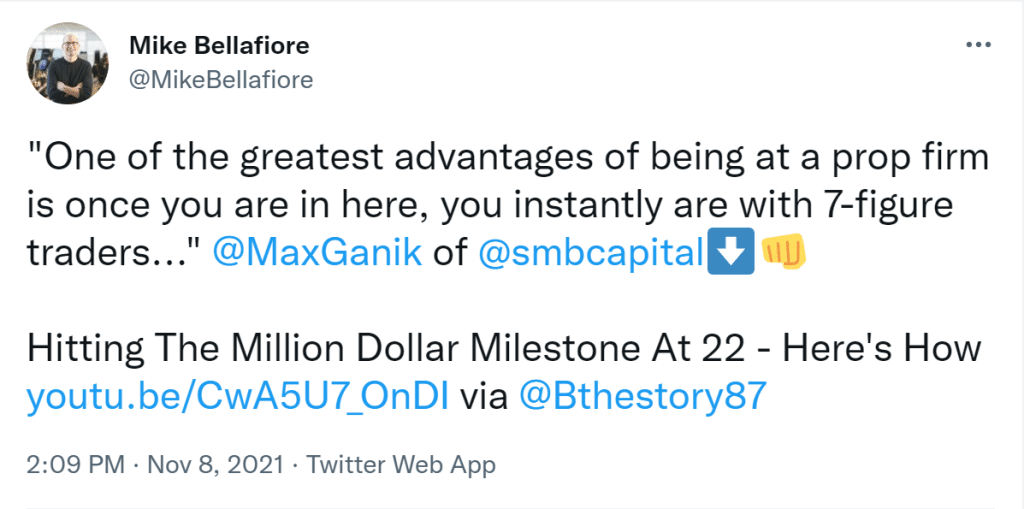 Max highlighted that he gained exposure to different trading strategies with edge from these profitable prop firm traders.  And that gave him a huge edge over other developing traders. But then he said something even more savvy and congruent with our development philosophy at SMB Capital.
Being around elite traders is the key to building your own unique trading career with your own personal strategies. Max shared that "everyone trades a little bit differently."  You sit next to elite traders, like Shark, you try their strategies and learn how they trade.  You experiment with different strategies with edge.  What Max observed next is that key.  He teaches the trading community, "that is what let's you build your own ideas and then build out who you are as a trader."  You make these existing profitable strategies from elite traders your own.  You tweak these existing strategies from highly profitable traders to make them work for you.  You are able to generate new trading ideas that work for you because you know what winning ones look like from winning traders.
You are building your unique trading career from the previous winning of other winning traders.

I asked two of our interns to create show notes from Max's interview.  They follow below.
Show notes:   
Max's trading now is totally different compared to when he first started out 

The benefit of starting out young (9th grade) is being able to see more price action, being able to see 

and interpret more headlines, and being able to witness different periods of volatility 

Starting off with options trading is a way for individuals to get into the market with less capital compared to actual stock trading 

Max became profitable with binary options within 6 months to 1 year and allowed him to build up a safety net. This also allowed him to feel more comfortable going into prop trading 

Began prop trading and joined SMB Capital at 22 years old 

Max joined Team Shark when he got into the firm 

Shark is really down to earth and willing to share ideas/be your mentor

There is a complete difference between how people trade on social media and how people trade in a prop firm 

Drawing a chart pattern and playing the breakout with a stop below is a very plain vanilla way to trade 

Max never tries to draw down with the firm more than 1-2 daily stops 

A really good day is when he makes 75% to 100% of a daily stop. An average day of losing is around a quarter stop 

3 or 4 moments since being here, almost 20 months of being live, that has allowed him to jump in terms of risk 

There are also a few points where he is flat or slightly red, which is fine

Max started trading with the firm 2 months before Covid. So he started in a market that was slow, for his training, and then volatility in the market went crazy, then slowing back down 

If you started in Covid and never saw VIX below 30, it can be pretty hard to adjust to different market environments 

He's very humbled by reaching the green shirt status, which is making 7-figure profits in one trading year, because he never expected it to come so quickly. It was a 5 year goal and not an 18-month goal. 

He wants to be an 8-figure earner this next year or the following year 

He understands that things may change as well but wants to be ambitious and push non-stop whenever it's possible 

He's there to keep himself busy 

Be smart with your risk management 

A "social media" breakout strategy is now a strategy if you're able to add your edge of watching the tape and seeing how the stock behaves at the level 

Inflection points speak more volume relating to importance at a key level.

Bumping up risk is something that traders, including Max, have had problems with but shouldn't be something that eats you up at night, as long as the risk management is still there 

Just talk to yourself about things relating to the trade 

Max's current stop is 40x-60x compared to what it originally started at

You can make 3-4x your stop in a month and get a decent sized risk bump

Max is on his way to obtaining the next shirt, black, which is $2m in net profits

Max wishes he had the same mentality he does now with the strict guidelines compared to when he first started out 

Imagine going into the 2020 market with an advanced view of the market and strict structure. Those opportunities and market conditions can lead to life changing money

A 50% win rate leads to success if you cut losers quicker and take quick scratches 

Most traders are in the 40-50% win rate. Most successful traders won't have their largest loss outweigh their largest win 

Win rate might not necessarily matter (feelers, taking quick losses if something isn't working, etc.) 

You're average price in a trade is going to matter significantly

 Guidelines – overall structure when it comes to trades, execution, and risk management
Quotes from Interview 
"Cultivate your own ideas." 

"There's no better feedback mechanism than being either green or red."

"There's no guarantee that you'll do well." 

"Slow yourself down when things go poorly." 

"Being able to learn from more senior traders and being able to kind of be in that structured, professional environment is something that breeds that constant success." 

"That's one of the greatest advantages in a prop firm is that once you're in here, you're instantly with 7-figure traders who are proven to be successful and you get exposure to profitable ways of trading by being able to witness all these strategies or ways to think about the market." 

"Everyone trades a little bit differently." 

"You have to try different things and put yourself in that position and the way to do that is to be exposed to people that are doing those various strategies."

 

"People might think that coming into a team that is doing well will be a lot of stress but you'd be surprised at how friendly it is and how everyone is sharing their edge. It's very collaborative and that's the environment which allows you to become successful/very quickly at that." 

"If everyone could just go out and buy the breakout, and put your stop at the low, then everyone would be rich." 

"Structuring a trade, whether it's through options or pure equity, gives prop firm traders a better edge compared to what you see on Twitter." 

"I'm almost never stopping out." 

"It's a lot easier getting accustomed to bigger numbers if you're not instantly going there." 

"If you're really going to be in this kind of job, you need to have that Type A mentality." 

"I've seen it where I've tried to go for that Home run and it turns out being detrimental." 

"I like to try to constantly think through different ideas and map out different scenarios." 

"People (at the firm) develop a way of reading price action and reading tape. That is why they have an edge." 

"I'm there to react when I really see something but I have that intuition inside that I know that if it's not right, or the volume isn't there, or it's not acting right, that I'm not going to push that trade." 

"When you're thinking through different scenarios and have this golden idea. It usually clicks when you're like, this is it! And that's when you just have to go for it."

"If you trust yourself as a trader and you have the stats to prove it, not every one of your trades is going to be successful, but in the long run, you will make money."

"The reaction to the trade is very critical." 

"You have to be extremely reactive and extremely nimble." 

"Mistakes add up. If you cut your mistakes as quickly as possible, even when you really go for it, it could save you." 

"You're going to blow up if you hit a $1 breakout and allow the stock to fade down to $0.40 because you're stubborn." 

"If you still feel like you're right, and they're working, and you let those run, those are what create those 4 or 5 moments." (referring to the huge success trades)

"If you're not stubborn and take small scratches here & there, those sorts of trades will not ruin your career." 

"As long as you trust your intuition and stick to your rules, you're going to put yourself in a great position to hit those home runs because you're never in a bad position overall financially or with the firm." 

When referring to a strategy, what comes to Max's mind is "How can I use my edge to confirm or deny something that I'm seeing on a chart or seeing with price action." 

"My strategy is how am I going to react at those inflection points and am I going to be quicker than the market to enter and exit?" 

"Don't let the financial fears or size fears really impact you." 

"Do your damn job." 

"Everyone here starts with the same risk." 

"If you keep putting out those great numbers and show that you're responsible, and that they can trust you, they will be a lot more willing to bump up your risk a lot quicker because they aren't being foolish with their money." (referring to the firm) 

"If they can trust you with their money, then they are more willing to bump you up." (referring to the firm) 

"It comes down to really keeping a responsible attitude." 

"Having very strict rules and behaving in a very professional way is what you grow into when you become successful." 

"As you become more mature, honing in on your values and structure is something that you need to adapt to in order to be successful."
From all of us at SMB Capital, train and trade well.
Mike Bellafiore is the Co-Founder of SMB Capital, a proprietary trading desk, and SMB Training, which provides trading education in stocks, options, and futures. Bella is the author of One Good Trade and The PlayBook. He welcomes your trading questions at [email protected]