I received this question from a foreign college student who took our college training program during the summer. It is a wonderful program for passionate college traders interested in trading pro. Let's check out his question and my answer below. I would be happy to answer any questions in the comments section or at [email protected] Trade well!
Today I had a rough morning. I was hoping you could give me some advise on these trades. I traded COH above 51.8, DGX above 58.5 and NSC above 68 and I got hammered in all of them. Are these bad trades or did I do something else wrong?
I have no problem taking a loss or being wrong on a trade but today I was just run over on the exit. I guess I should get back in in NSC when it holds the level again. The other two went the other way so I did the right thing to get out but still I managed to take the trade right before they got crushed. I tried flipping COH but it was to fast for me to control my risk so I got out. Maybe this is something I need to be prepared on when trading these types of stocks that are much in play?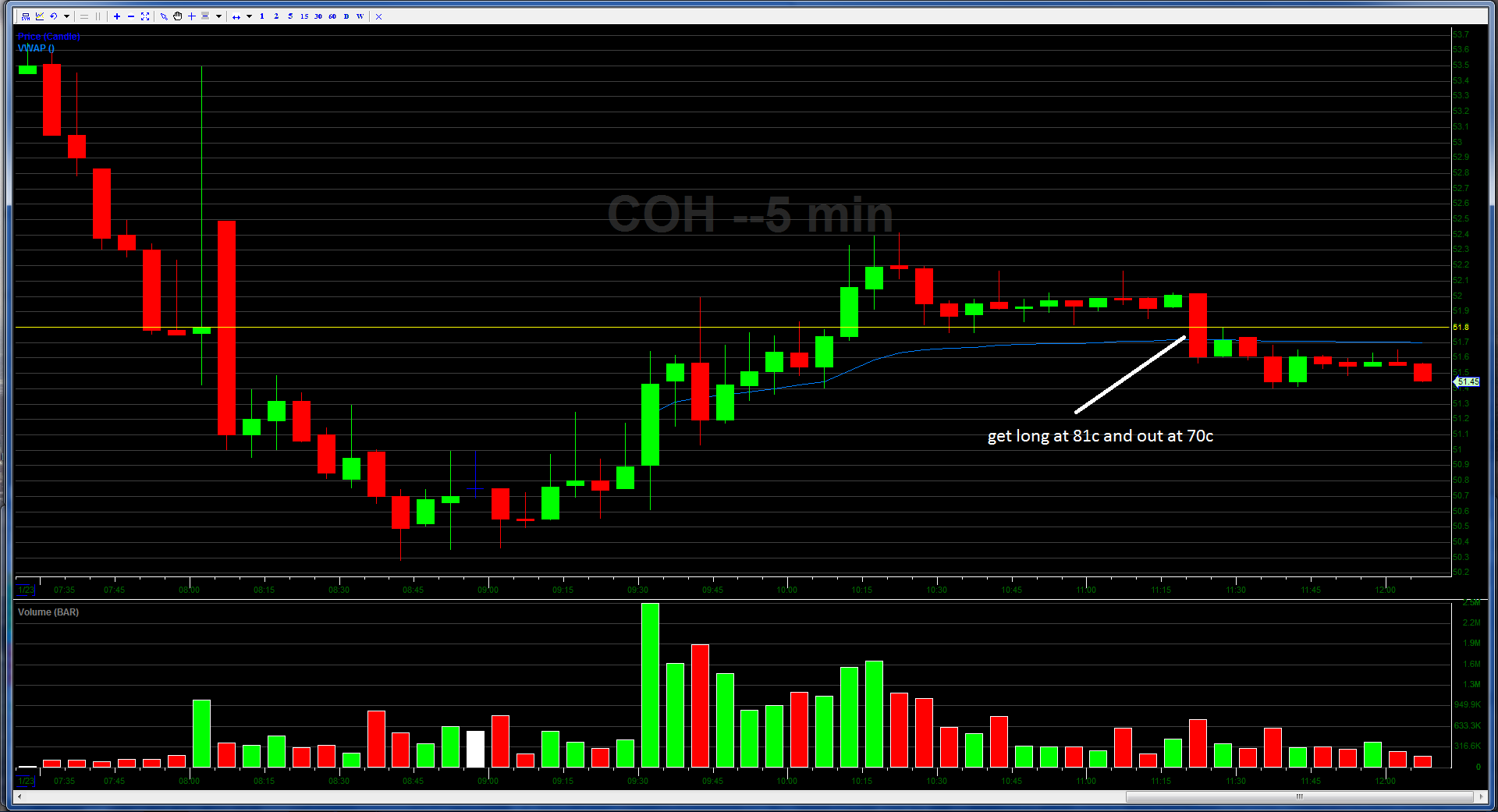 @mikebellafiore
Here is how you trade COH yesterday as an intraday trader.
1. BUY 51
When the market is strong, real stocks tend to bounce on the open. COH is obviously a real stock as it is a real company (or so my wife tells me).  When you see support intraday at 51, buying on the tape, buy and try and catch an upmove.
2. BUY More 51.30
There was a battle on the tape around the 51.30 level. This was an inflection point for us as intraday on the open traders. The stock was almost certainly going to move away from the 51.30 level whenever the buyers or sellers took control. I bet longer because the market has been strong, the stock was down a lot, and there was a good chance for it to bounce some.
3. Scale out at 52.
There was too much selling at 52. The tape was very weak there.
4. Buy more at 52.
Finally COH busting through the 52. So you add to your position again.
5. Lighten up below 51.85
When a stock is strong it should not pullback as weakly as COH did from 52.40 all the way to 51.80. I had some stops to lighten up below 51.85 and they were triggered.
6. Add back in front of 51.80
Time and price are important in trading. When the price of 51.85 was violated I lightened up. But because COH did not spend a lot of time below this level I re-added to my long position, with stops below the wicks.
7. Stopped out 51.74
This was my line in the sand for the long position.  This is where the intraday uptrend was violated.  When I am in a Trade2Hold long a Reason2Sell is if the intraday uptrend breaks.  It did here.
8. Trade2Hold short below 51.74
You want to flip this position from long to flat to short below 51.75. COH had gapped down a lot and was in a technical downtrend on our long term charts.  Below 51.75 and now COH is in an intraday downtrend. This makes for a Trend Trend Trade.  This is a Trade2Hold short in which we do not cover until there is a Reason2Cover.
One Reason2Cover was COH approaching an important intraday technical level. Remember that level? Yes 51.30 the area where the biggest battle was on the tape that caused the move to above 52. Lighten up here.
Hold your core until there is another Reason2Sell. None transpired so the trade is to hold until the bell or longer if you are swing trader.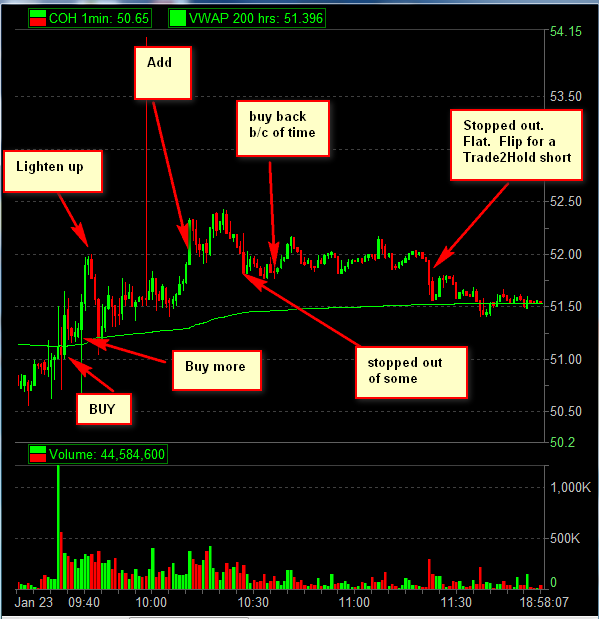 Please sign up for Bella's next webinar where he discusses The Opening Drive Trade with an example from LNKD.
Mike Bellafiore
no relevant positions
Please follow and like us: