This post is the second in a series that we will be publishing over the next several weeks, tracking the hypothetical performance of the bearish butterfly trade as it would have been handled according to our guidelines contained in SMB's Bearish Butterfly Video Series.
In the law there is an expression, "the wheels of justice grind slowly". To bearish butterfly traders, one of the most annoying market conditions is the slow upward grind of the vehicle that we are trading–in this case the Russell 2000. This trade, which is predicated on the premise that all rallies experience a pullback at one point, is elongated by a slow grinding rally, and our March position is no exception.
On February 1 we added the butterfly centered at 800 and then last Friday, after the Employment Situation report was announced, and the market rallied hard, we added the 820 and 840 butterflies and sold the 780, all according to guidelines. As of today, the trade is down 12% with 37 days before expiration.The risk graph looks like this presently: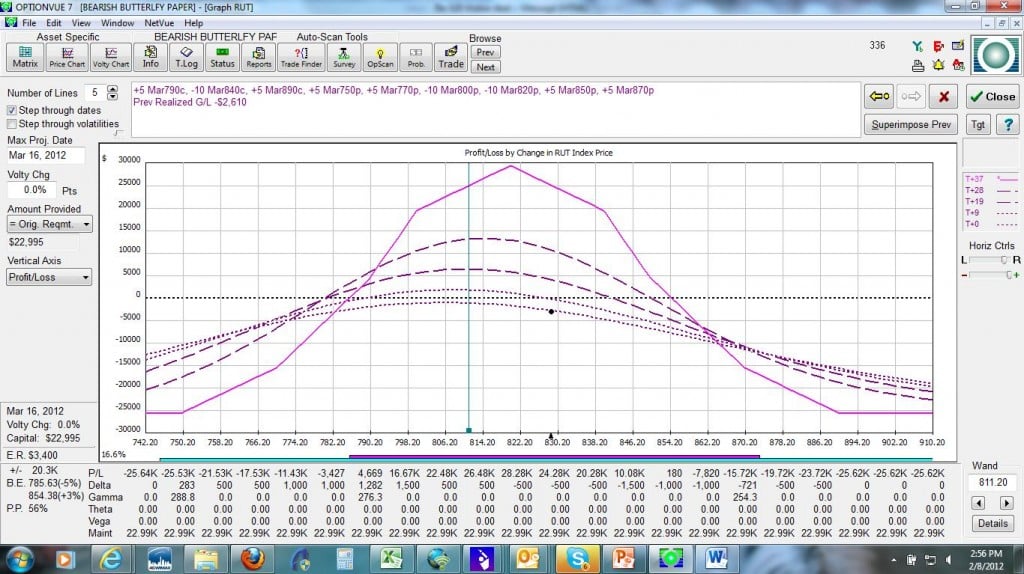 If we get the long overdue sell-off in the $RUT, we will most likely be in much improved shape on the trade. If not, we will continue to roll our butterflies upward to keep pace with the market. Stay tuned for our next move……
John Locke
Locke In Your Success, LLC
Please note: Hypothetical computer simulated performance results are believed to be accurately presented. However, they are not guaranteed as to accuracy or completeness and are subject to change without any notice. Hypothetical or simulated performance results have certain inherent limitations. Unlike an actual performance record, simulated results do not represent actual trading. Since, also, the trades have not actually been executed; the results may have been under or over compensated for the impact, if any, of certain market factors such as liquidity, slippage and commissions. Simulated trading programs in general are also subject to the fact that they are designed with the benefit of hindsight. No representation is being made that any portfolio will, or is likely to achieve profits or losses similar to those shown. All investments and trades carry risks.
No Relevant Positions.