Trader A is an experienced trader learning futures on a new platform above, as he shared with me with this screenshot.  Trader A is up over 2k in 2 hours of futures trading.  What he cares about makes all the difference.
Here is what Trader A said about his start: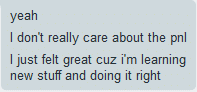 The elite trader is proud of learning a new platform.
The elite trader is excited to learn a new product.
The elite trader develops goals to trade this product incrementally bigger.
The elite trader takes notes on how to trade this new product better.
The lesser trader cares he is up 2k.  He might even start bragging to his trading buddies about.  Heck he might even try it on the next new young lady he meets.
The elite trader cares about progress, improvement, tracking performance, and learning.  He basks in the reward in that. And works diligently for the reward that will come.
*no relevant positions