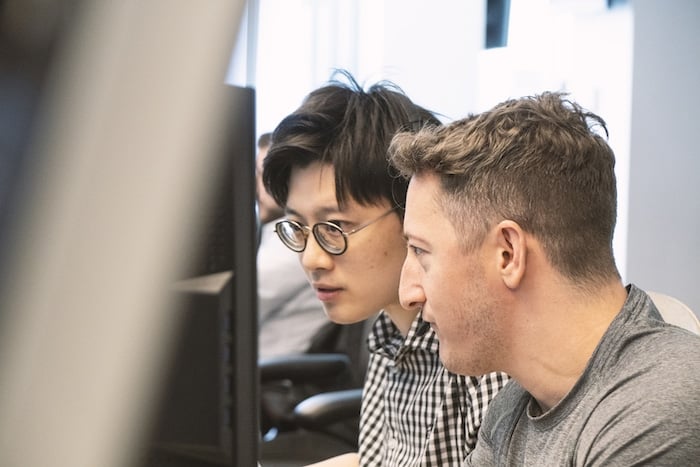 Over the break my family and a friend and his two daughters visited Princeton to catch a women's basketball game…as a special gift to my daughter.  I had never been to the campus.  My wife hadn't been in years since playing a college away game there.  The visit was a reward my daughter earned performing exceptionally well during her Christmas pageant.  In the end, this visit reminded me: role models are essential.
(A Case Study of 8 Successful Traders from our Trading Desk)
Let's rewind a few weeks with me walking down the streets of the UWS, with my daughter.  I was praising her again for her excellent performance during her pageant.  She advocated, "Dad, Lukey (her brother) got a special gift for his baseball championship.  Shouldn't I get something special for my pageant?"
She was totally right.  And I told her so.
But I wanted to think about what we could do with her to celebrate her performance.  It had required consistent effort, rehearsal, more rehearsal, and conquering nervousness.  After all, it was her first performance.  She had earned the right to be recognized.  And I wanted to get that part right.
I requested a dad's delay to think about it.
"Okay dad," she agreed.
Now there is a girl we have been following, since her high school playing years, near where we have a home on the Jersey Shore.  She was the best high school player in the state last year.  And uniquely she chose to continue her basketball career at Princeton.  This young woman could have played most anywhere, yet she uniquely chose a school more known for academics.  This player is stylish, lefty, a bit skinny, fast, attended a private school, and is a guard… all like my daughter.  Well all of which my daughter can easily relate to.  Well all of which my daughter could see in herself, as a young girl.
I have taken my son to sporting events as a special gift.  So I thought taking her to watch this basketball player at Princeton would be a thrill for her and a thoughtful special gift.  But I wanted her reaction before finalizing our plans.  Her reaction? Her eyes lit up when I told her of my idea.  Dad success!  We bought tickets and then more tickets for my friend and his girls.
During the game, I scooted over to my daughter's seat to replay a good play by the Princeton player.  During the action, I pointed out how she was lefty, and stylish, and a guard, and fast and left it at that.  It was up to my daughter whether she could relate more to this player because of these characteristics, which reminded me some of her.
The game was thrilling with Princeton winning at the buzzer.  My kids were jumping up and down after the buzzer beater that propelled Princeton to the win.
We hung around after the game, talking with our friends, collecting our stuff, soaking in the excitement, and catching a bathroom break before the trip home.  My wife knew the players would come out to meet their families and spotted where that was happening for the Princeton players.  We lingered over to this area, watching the greetings.  My daughter watched all of this post-game pageantry.
It just so happened that that player we went to see was greeting her family a few paces in front of me.  I caught my daughter looking at her.  I poked my daughter to ask her for a picture and she did what many young girls do.  She retreated to shy mode.  So I did what any dad would do in that situation.  I politely asked the player if she would take a picture with my daughter.  The player saw my daughter, deep in shy mode- all 7 of her, smiled widely and grabbed onto my daughter's shoulder and positioned her for a picture.
It was a moment.
This 7-year-old baller was meeting a college baller.  Better said, this beginner was meeting a role model.
So touching in fact was this moment that the player's mom jumped in to snap some photos of the two of them.  Her daughter was a role model for this young girl.  This mother wanted to capture that moment.
My wife, understanding how this all works after games, chatted up the player with my daughter.  My daughter just taking it all in and transitioning out of shy mode to participant.  She got to talk to her new role model.  They all left the conversation agreeing to catch the Princeton v. Columbia game in NYC.  This all went much better than I had hoped.
My daughter has a new role model.  One she has met and talked to.  A very special one in that.
Now look maybe my daughter won't want to play basketball, when she gets older.  Maybe she won't have the talent to play in college.  Maybe she won't do the training necessary to reach this level.  But the significance of the experience is the same.  She met a special young woman who maybe one day she can be like.
She saw it.  She stepped inside of that environment.  She interacted with it.  She touched it, heard it, felt it.  It's real.  It exists.  This is possible.
Role models are important.  They show us it is possible.  They inspire us to continue down our path.
Role models in trading are essential.  They show us being consistently profitable is possible.  Knowing they exist makes it easier for all of us.  They tell us: I can be that trader!
Bella
Mike Bellafiore is the Co-Founder of SMB Capital, a proprietary trading desk, and SMB Training, which provides trading education in stocks, options, and futures. Bella is the author of One Good Trade and The PlayBook. He welcomes your trading questions at [email protected].