I have been long VMW since I bought it yesterday at the Open around 79.50. It closed near its high so I held it as a swing position. This morning I bid for more stock about $1 below where it closed yesterday, which had been the prior day's morning resistance (see chart below). My bid got hit before the market opened and there was a pretty nasty down move in it just as the market opened but not low enough to stop me out. phew!
This afternoon I mentioned that VMW was moving higher above 84 resistance and a newb popped out of his chair with the following comment. "It is trading so much better today than yesterday." Putting aside for the moment whether this objectively was the case let's listen to what Shark said in response (Shark is a senior trader on our desk and featured in the The Playbook). "You are making money in it today so you think it is easier". We all laughed.
I responded to the newb that I thought VMW was well behaved yesterday dropping out on the Open to a very well defined support area and then later having a clean breakout above its Opening range. Today it dropped wildly on the Open almost $1 below my entry but in the afternoon pulled back to a well defined support area and held before trading up almost $2.
So did the newb have a point about today's trading action being easier than yesterday? Perhaps. The most difficult time to trade intra-day is the first 15 minutes when the market Opens. There is almost ZERO liquidity. So if he had only been focused on trading it later in the day it would seem to him that it was very well behaved. Also, based on my observation of this trader his preferred method of entry is when a stock pulls back to a well defined support area and holds that level for a significant period of time. That is exactly what we saw in the afternoon at 83 in VMW so that certainly would color his opinion.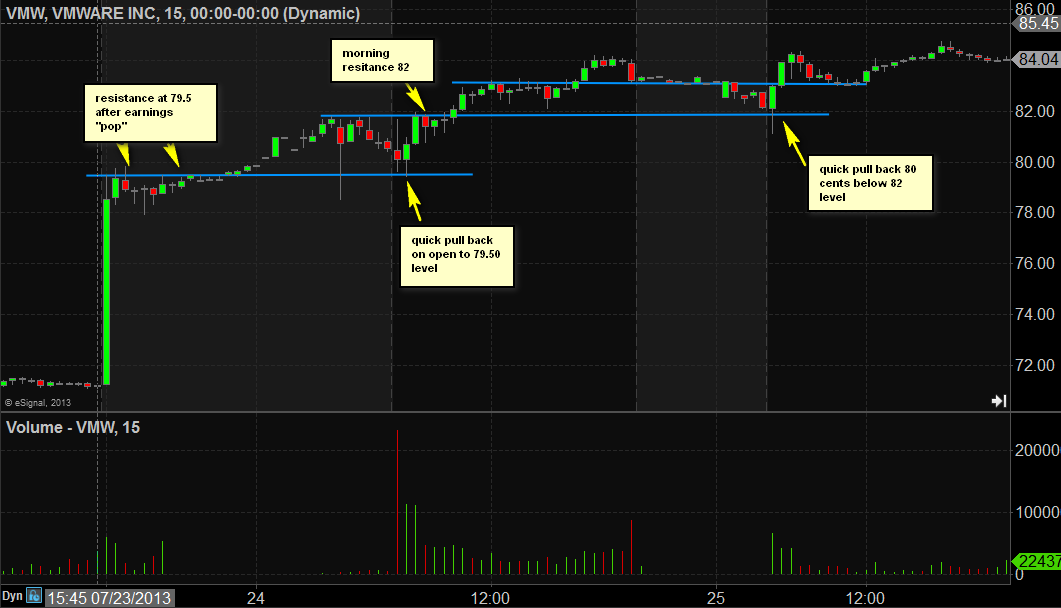 Steven Spencer is the co-founder of SMB Capital and SMB University and has traded professionally for 17 years. His email is [email protected]
Mr. Spencer is currently long VMW