Lately we have been posting some very simple Radar setups that can really step up your trading game. Simple, trend following plays that can be very high probability, good risk / reward plays. Today $OCR made a similar set up to the Spencer Special, however didn't have as many checks as we would like to see. Consolidation wasn't very clean, the market was holding higher, and it wasn't in the top 5 on the Weak Today list. Still, it had a chance and could arguably have been worth a tier 1 trade that could still possibly work (depending on your stop).
But with some stocks at such low levels, having sold off without any real pull backs – new, more advanced plays emerge. Today $FMCN was immediately the top Strong Today name on the SMB Radar, colored in bright red, indicating it was very In Play (also meaning the probability of follow through in the moves was much higher). This is not an easy play for many traders. Many traded the short side for the last week or so and made good money in the name. Getting long during any of the last few sessions would have been painful. But today traders finally had an edge to be buying.
– the market rejected the lows
– $FMCN immediately rejected the lows and had its first move to the upside
However $FMCN did the same thing yesterday, yet had a reversal. There is a distinction to be made between today and yesterday. Yesterday the $SPY and $FMCN reversed by 10am (we look for stocks to be trending by 10 – 10:15), and yesterday $FMCN was no where to be found on the top Strong Today list, thus making it still just another weak stock in a weak market.
Today it showed great relative strength from the first ticks, was immediately on the top Strong Today list, and was heavily In Play. This is a trade I want to remember, a play I'll add to my personal playbook.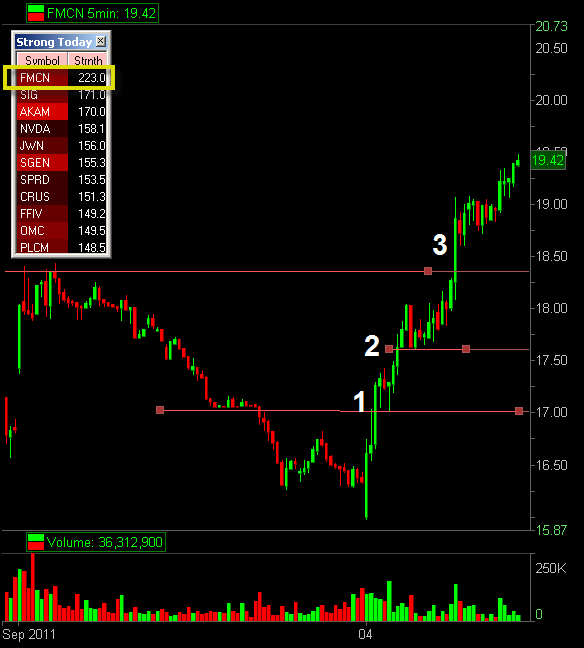 1. Opening drive, then holds above prior day's consolidation level. Good risk / reward to start long here (17.00)
2. Continues higher, but rejects 18.00. This is where the trade gets difficult. My first thoughts are "weak stock (long term) meets resistance from prior day and gets rejected". This is right, but the stock isn't weak today, and as an intraday trader if I have an edge on the long, I need to stick with it. $FMCN holds above 17.50.
3. Another trade here playing the long through the prior day's high (not a good spot to be starting a position). This is usually a very low probability play, but when a stock is #1 on the Strong Today list, and is finally having its first up day, with the market also holding higher, my edge changes dramatically.
Click here for a 14 day trial of the live Radar we use on our floor. If you're a Radar user, feel free to ask us questions on how to use it / set ups / more at [email protected]
–  @tarhini_smb, trader
Disclosure: No position in $FMCN
Please follow and like us: