The market has slowed down quite a bit recently.  Unless you are trading the most In Play stocks there is virtually no follow through.  At times like this it is even more important to refocus on your trading edge.  For myself I have identified four things that have allowed me to make money consistently over the years.
1) Previous day's inflection points: I am great at identifying prices from the previous day's trading action where I can make trades.  Trades that offer a risk to reward of 10:1 or more.  By the way, this isn't that difficult a skill to acquire.  Even some of the newer traders on our desk with less than six month's experience have acquired this skill. i.e Rosie
2) Great technical setups: Finding stocks on longer term charts that are about to break out or break down.  Unfortunately, because I spend a lot of my non trading time engaged in other activities I miss quite a few of these setups.  But that is where Joe P helps me out.  He scans the market every day looking for great technical trades.  He comes up with two or three phenomenal setups each week.
3) Grinding it out: Read the tape well enough to make 10 to 15 cent chops all day if that is what is required to make money.  This is something that takes some time to develop.  It requires excellent tape reading skills and a good feel for how a particular stock trades.  When the market use to trade in fractions I would book 3/8 all day.  Now the chops are smaller but so is the risk.
4) Crushing stocks on the second day:  What I mean is actively trading a stock when it has fresh news so that I get a feel for how it trades which leads to a larger chop the next day.  The most recent example would be PALM.  I traded it in the after hours Thursday after it reported its number, which made it easier to crush on Friday during the day.
I will continue to focus on the above each day to maximize my gains while trading opportunities may be somewhat limited.
I wanted to mention one trade from today that was highlighted in our AM Meeting by Joe P.  I also had Gman tweet it as our best AM Idea.  What I liked about the trade was its simplicity.  The stock had recently been weak and had a clear support area.  Joe's idea was to short the stock on a break of support and risk no more than 30 cents for a potential gain of $1.50.  The trade was to short DVN below 55 and cover above 55.30.  This trade basically saved my morning and put me in a good frame of mind to make money in the afternoon.  Thanks Joe P.
Don't forget to follow us on Twitter!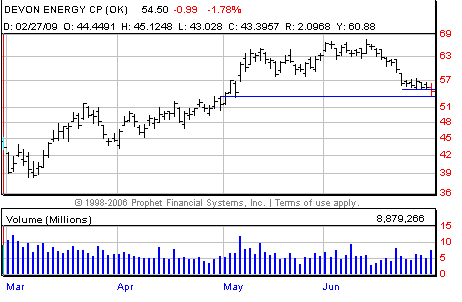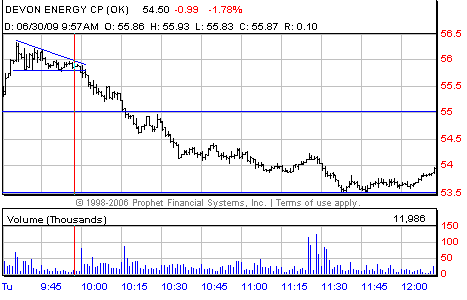 Please follow and like us: