Ok, after the 13th person in a week and a half asked if it I thought this could be an inverted head and shoulders pattern in the S&P 500, I decided I had to write a quick post.
First of all, let me start off by saying that this is one of my least favorite patterns. I would never take a trade because of a head and shoulders pattern. I never look for them on charts, and, in fact, the only reason I ever know they are there is when someone points one out. I think it is one of the most common patterns in the media and in the public perception, because it is easy to draw on the chart and to tell people what it is. It makes a good soundbite, but the media does not understand an important nuance of this pattern. You must understand this if you're going to trade this pattern.
If is clear if we go back to the source material like Edwards and Magee (or the source material for the source material: Schabacker's Technical Analysis and Stock Market Profits(1932)) that a head and shoulders is a large scale topping formation. Conversely, an inverted head and shoulders is a large scale bottoming formation. You DO NOT have these patterns in the middle of a trend. You do not have inverted head and shoulders near the top of an extended trend as we have had off the 2009 lows. We also had the same issue with this pattern during the financial crisis, when every day the major media seemed to roll out a new "Chartologist" who kept pointing out heads and shoulders on the way down. This is a serious misunderstanding of this pattern. Context matters: you can only have a head and shoulders (top) after an extended uptrend, and you can only have a head and shoulders bottom (inverted head and shoulders) after an extended decline. You can have other patterns that have the same shape, but both the shape and the context are equally important.
There is a lot more to technical analysis in general, and even to trading simple chart patterns, than just recognizing patterns of bars and shapes on charts. As I have argued, these patterns occur on random data, and, taken by themselves, they are absolutely meaningless. You must put them in context. You must understand market structure. You must understand the buying and selling imbalance that created the pattern… this is far more important than the pattern itself… they are the reality behind the pattern. We don't trade patterns, we trade the underlying imbalance that created it.
And, if you ARE going to trade patterns, I think you owe it to yourself to read the source material and really understand them. Be concise and accurate in your thinking and don't be misled by facile interpretations of patterns.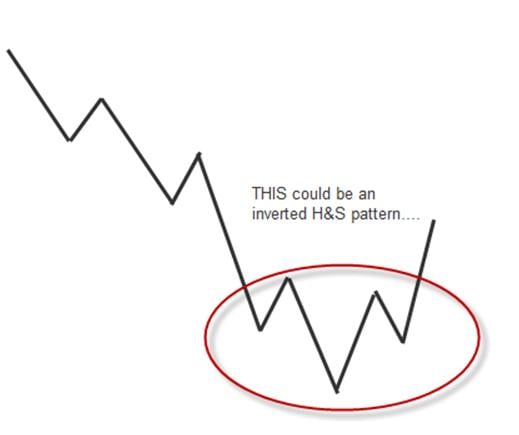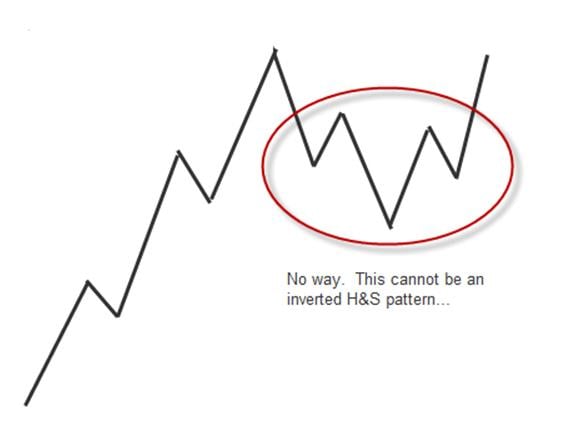 So, no, it's not an inverted head and shoulders pattern… J