Yesterday ACN was in play.  One of our new traders showed his trading tape of ACN.  He was doing the heavy lifting in this stock.  This was not necessary.  Let's discuss how to find the easiest play in an ACN from yesterday's action.
Below is the news on ACN before the Open:
Accenture beats by $0.04, reports revs in-line; guides Q4 revs below consensus; guides FY09 EPS above consensus (31.64 +0.21) : Reports Q3 (May) earnings of $0.68 per share, $0.04 better than the First Call consensus of $0.64; revenues fell 15.6% year/year to $5.15 bln vs the $5.2 bln consensus. Co issues downside guidance for Q4, sees Q4 revs of 5.0-5.2 bln vs. $5.26 bln consensus. Co raises guidance for FY09, sees EPS of $2.67-2.70 up from $2.60 to $2.67 vs. $2.64 consensus.
1) I like stocks that raise guidance for the full year.  Granted they did not raise their guidance by much.  And there previous quarters were mixed.  But in this economic climate raised guidance for the year, even if only slightly, gets my attention.  OK so now we have one check on the bull side.
2) Our next clue that ACN might offer an excellent risk/reward long was that it gapped up on the Open.  Check two for the bulls.
3) 32.40 was resistance on the longer term chart.  And this is where our new trader was doing some heavy lifting that was not necessary.  Let the dopey stock show you that it can hold above this resistance level.  Our new trader was fighting his long at 32.10, 32.25.  Why?  Why not wait until you receive some more price confirmation that ACN will trend higher for the trading day.  And that will be when it holds above 32.40.
Longs below this resistance level are not advisable.  Don't make trading so difficult.  Let ACN check three and then get long.
4) 32.10 held the bid.  And there was buying on the offer.  Large offers at 32.40 were cleared.  Check four for the longs.
5) One negative for your ACN long was SPY resistance at 92 which we could not clear.
ACN turned out to be a good trading stock.  Not surprisingly this was not until it cleared its resistance at 32.40.   All that heavy lifting below the level was not required.
Enjoy your weekend! Don't forget to follow us on Twitter!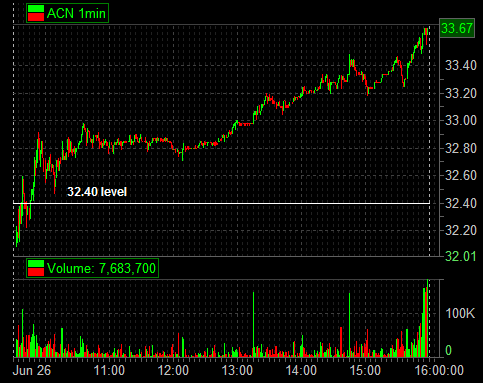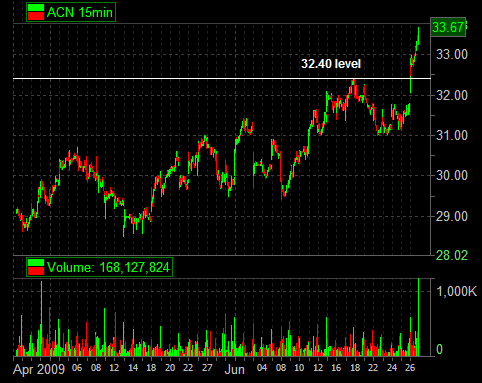 Please follow and like us: