EL was a good trading stock on Friday.  EL traded between 24.60 and 25 for most of the Open.  Then on higher intraday volume EL broke above its resistance level.  EL traded up towards 26 and then stalled.  Let's discuss how to buy EL into a pullback.
This is a stock I want to be long.  It broke above intraday resistance.  EL did so on higher volume.  EL had a nice move above 25 to 26.  And it was IN Play.  The cosmetics company cut its earnings and sales outlooks for the fiscal second quarter and year, following a tough holiday season and continued weakness in consumer spending.  But after EL stalled at 26 where do I buy more?
It is a matter of trading preference as to where to buy EL into a pullback.  But here are my levels.  EL slowed at 25.60 and traded sideways.  I got long.  EL clearly traded below this level so this is a sale now.  EL held the 25.35 level on the way up towards 26 so I got long again at 37c.  This level did not hold and I got stopped out.  The next level to buy into this pullback was in front of 22c.  During EL's first move above 25 25.22 would not drop the bid.  I would have hit the bids if the 22c level dropped, but then bought in front of 25.
EL held the 25.22ish level and then traded higher.  EL traded back towards 26.  So for me, for my buying into a pullback strategy, I would have been stopped out 2xs (small losses) but then caught a 75c upmove.  Most specifically I will sell half of my position at 26, the new intraday resistance level, and then let the rest of my position run.  If I see EL clearly hold above the new intraday resistance level of 26, then I will buy back some more.
Each trader should develop their own strategy for buying into a pullback.  I was bullish on EL after I saw the upmove above 25 on heavy intraday volume.  So I was a buyer at 25.60, the first time EL slowed.  Some traders might have found this too aggressive.  Some traders are more aggressive than me and would have bought a pullback at 25.75.  Others less aggressive may have waited until 25.37.  Still others even more conservative would have waited until the 22c level.  This is up to you.  But what is important is to develop a system.  What is necessary is to have a very good reason as to where you are buying into a pullback.  And what is most important is that if that level does not hold you must exit, reevaluate, gather information, and consider your next level to buy.
This is a play you want in your trading arsenal.  You want to be in strong stocks and buy into pullbacks.  And you want to hold a core of an EL until there is a reason to sell.
Good luck with your trading.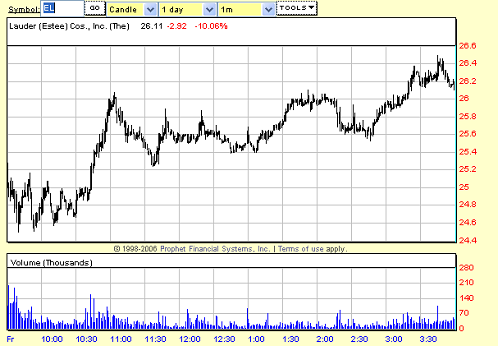 Please follow and like us: