Our desk did a nice job of trading BA today on the short side.  Below 42.75 BA offered an excellent risk/reward opportunity short.   Let's discuss why this level was so likely to work.
Often traders are in the wrong stock.  Or often traders determine levels in stocks that are not significant.  BA was not the wrong stock today.  42.75 was not the wrong level.  It moved off of this level.  It moved cleanly.  BA moved significantly.
And as traders there were characteristics of this set up that we must remember.  We will see set ups like BA again.  It is important as traders to brand in our trading brains the set ups that are most advantageous.  Today in BA, short below 42.75 is one of them.  Why?
1) BA had significant news yesterday.
2) BA moved significantly intraday yesterday.
3) There was a ton of intraday volume done at 42.75 in BA yesterday.
4) There is no support for BA until 40.
5) The market is weak overall without support until SPY 88.50.
6) CHEX was a huge seller who kept stepping down in BA today.
7) BA kept making new intraday lows after battles.
After the close our desk met to discuss this set up.  Traders in this play should relive this trade with as much detail as possible.  You should rewind this trade tick for tick in your mind.  These are the trades that work.  And we must spend most of our review on our best trading set ups.
Don't be so hard on yourself when you make mistakes as a trader.  If you want to be hard on yourself, then make sure you remember as many details as you can about trades like BA above.  Could you have added more size?  Did you cover too quickly at times?  Did you hold your core for most of this move?  Make sure you are ready to trade this set up the next time it is offered in the market.
Best of luck with your trading! Don't forget to follow us on Twitter!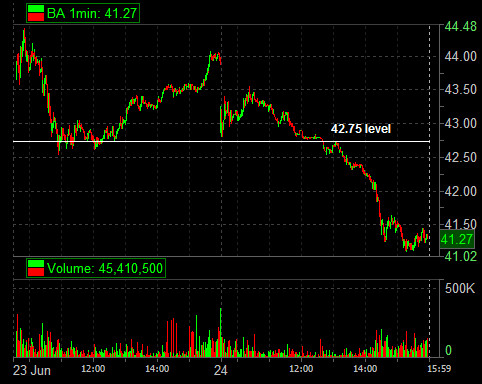 Please follow and like us: