This post is another in a series that we will be publishing over the next month , tracking the hypothetical performance of broken wing butterfly trades selected by Greg Loehr of Optionsbuzz.com.
If so, then this is where you can potentially make a killing with the hypothetical broken wing butterfly we've been tracking over the past week.
The hypothetical fly in question is the 610-605-595 put fly expiring today with an entry price of a 5-cent credit.   As with all butterfly trades, where is the best place for the stock at expiration?  At the middle strike of course, and as I write this AAPL is trading around $605.  The chart below is a thing of beauty, especially if you think you have the skills to gauge the intra-day movement of the stock.  I'm tracking eight hypothetical spreads with each spread risking $495.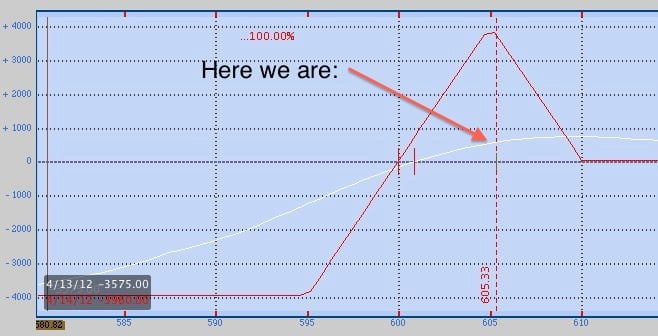 With this hypothetical trade expiring today, here's where a lot of the "art" of trading comes in.  I used the "science", if you will, in selecting the trade, and that seems to have worked out nicely up till now.  But now the trader/artist needs to take over and decide how and when this hypothetical trade needs to be managed.  By the end of the day, if AAPL is above $610, then this hypothetical trade goes out worthless and the current (as of these key strokes) credit of $0.60 is lost.  Below $600 and the hypothetical position loses money.  So it's a tight rope balance between gauging how the fly will continue to move in price compared to what you think the stock is doing.  This becomes the crossroads of understanding the nuances in a potential option position like this with an ability to read the tape.
Check back at the end of the day for a recap of how this hypothetical trade played out, and then I'll introduce you to another hypothetical trade on the SPX looking into next week.
Trade safe!
Greg Loehr
Optionsbuzz.com
Please note: Hypothetical computer simulated performance results are believed to be accurately presented. However, they are not guaranteed as to accuracy or completeness and are subject to change without any notice. Hypothetical or simulated performance results have certain inherent limitations. Unlike an actual performance record, simulated results do not represent actual trading. Since, also, the trades have not actually been executed; the results may have been under or over compensated for the impact, if any, of certain market factors such as liquidity, slippage and commisions. Simulated trading programs in general are also subject to the fact that they are designed with the benefit of hindsight. No representation is being made that any portfolio will, or is likely to achieve profits or losses similar to those shown. All investments and trades carry risks.
No relevant positions.