As traders we want to believe for the most part we are making rationale trades from a risk to reward perspective. At SMB we ask ourselves "if I make this trade 1,000 times will there be a positive expectancy?" If the answer is yes then we make the trade. If the answer is no then we don't make the trade. If we aren't sure then we flip a coin 🙂
I was having a conversation a couple of months ago with one of our remote traders who had built up a fairly large position in NEI. He explained to me that the prior two times it had pulled back to 1.70 he had caught very nice bounces. I looked at the chart and offered the following comment: "technically doesn't look good" (cool how gchat saves old conversations). Take a look at the chart I was looking at the time we spoke.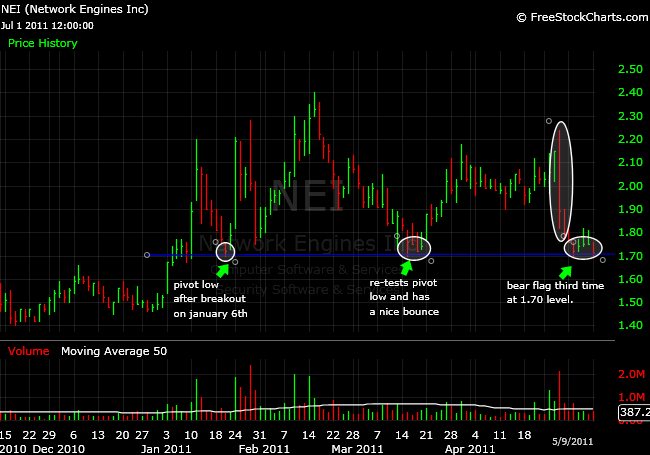 He said that he felt comfortable being long the stock and that he was willing to risk some money on the trade since he had made 9K in the stock on his previous trades. Was his thought process correct here? Should the fact that he had made thousands of dollars on previous trades in NEI had an impact on THIS trade?
I think there is a valuable trading lesson here. I know personally that I have allowed past profits in stocks I have traded impact my future trades in that stock. In 2007 RIMM was my most profitable stock. To this day I still feel more comfortable putting risk on in RIMM because of the money I made trading it when it moved from 40 to 140. But I think there is a distinction between feeling more comfortable putting on risk in a trade versus allowing past success to determine whether a trade itself offers favorable risk/reward.
I look forward to the feedback of our readers. I am sure many of you have some interesting thoughts to share on this topic.