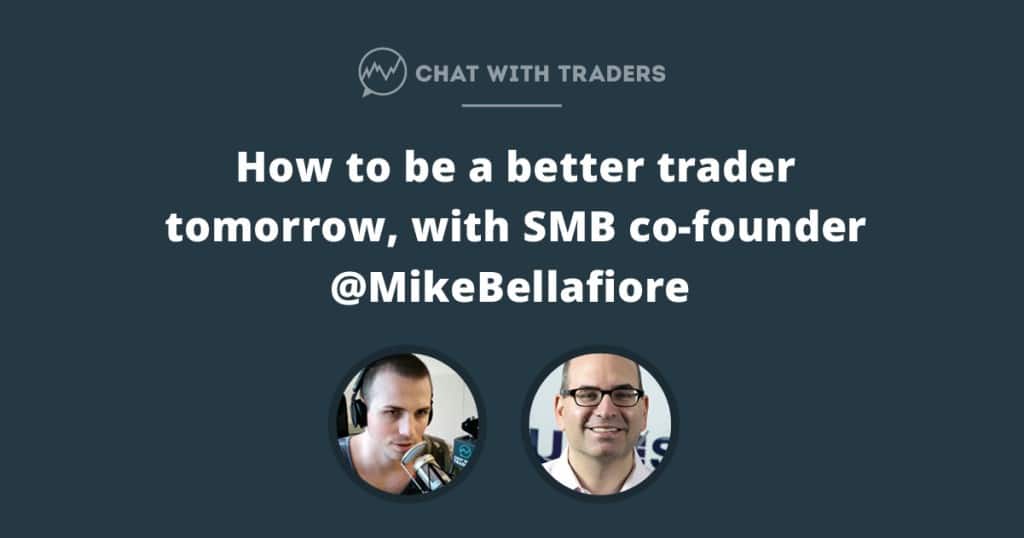 Mike Bellafiore was interviewed on ChatWIthTraders.com by Aaron Fifield.
To see more videos of interviewed traders subscribe to chatwithtraders.com or contact Aaron here.
27 May EP 022: How to be a better trader tomorrow – sharp insights with SMB co-founder Mike Bellafiore
Aaron Fifield:
This week I have great pleasure in saying, my guest on the show is Mike Bellafiore.
Mike is the co-founder of SMB Capital, a proprietary trading firm in New York City, as well as SMB University which is the arm for trader education. He's also the author of two very popular trading books One Good Trade and 'The Playbook.
Additionally, Mike is a regular contributor to Yahoo Finance, and his firm has often appeared on CNBC's Fast Money, CNN Money, Bloomberg, and Fox Business. But even with all of this going on Mike is still a very active, very successful trader.
During our interview, Mike delivers some great insight about traders often confusing psychology for a lack of edge, and an overview for one of his favorite setups which has been labeled 'The Money Trade". Plus, he shares the development program new traders go through when joining SMB Capital, and a few top-level pointers on how to achieve a sustainable trading style.
And I just want to point out this interview was recorded on the 20th of May, only reason I say this is because Mike mentions a few market events during this interview.
NOTE: Click here to grab a free copy of 'The One Thing I Wish Someone Would've Told Me Before I Started Trading…"
---
 Lessons learned in this interview:
The large difference between mentoring, coaching and education, why all are important but vastly different. Mike speaks about a real life example to make things clear.
Mike discusses the reality of needing a trading edge. Although it is hard to find a true edge, having one will help you to avoid many of the psychological issues traders experience.
The reason Mike was motivated to start a proprietary trading firm. How he had no idea what he was getting himself into, and the challenges that were in-front of him.
An overview for one of his favorite setups, The Money Trade. And why Mike views the characteristics of this setup as a fundamentally sound trade.
A few of the traits that will either reinforce why you are becoming a trader, or make you question if this is something you should even be doing.
The process and training program new traders to through when entering the firm, and the time expectancy before they reach a level of profitability. Plus, the comparison to prop traders and retail traders.
Mike talks about the key to a sustainable trading style, knowing the variables, loving your trades, and why you must be able to scale your trading method. Like he says, "We are not here to make $50K a year!"
And much, much more…
Quotes from this interview:
---
 Links and resources mentioned in this interview:
---
 Did you enjoy this interview?
Please leave a 5 star review on iTunes to support the show.
Subscribe to receive an email when new interviews go live, and a free guide.
Post a comment below, what was your greatest takeaway from this interview?
Share this interview with your friends and followers.
---
* no relevant positions