*****Editor's note: Jake Huska is a college student working on his trading game. At SMB we believe traders should start working on their trading game early, just like pro athletes. Jake's posts reflect a better journey toward becoming a pro trader for the college student with a passion for trading.*****
I mentioned on StockTwits last week that I thought "Buying stocks that have been weak multiple days in a row into longer-term support levels can work nicely in a bull market." While I don't consider myself a fade trader, I will on occasion put on a countertrend trade. The trade I wanted to look at specifically is RAX.
This stock has just been crushed: after topping out at $54 back in October, it has trended down to the low 30s. Last Tuesday, RAX was coming into longer-term support on the daily at $34. I got long the stock intraday after it had held that $34 level and captured a point in the trade (admittedly leaving some money on the table). The thing to remember with any type of fade trade is you need to take your profits more quickly than you would if you were trading with the trend. This is due to the increased probability of the trade not working and continuing in the direction of its longer-term trend.
The following day, the stock bounced again off that $34 level, but was much more feeble than the prior day's bounce. I continued to monitor that $34 level going forward. On Friday, RAX drove through the $34 level and I shorted it into an intraday retracement. I've been swing short the stock since last Friday. I covered about ⅓ of my position today to cover my risk, but I ultimately believe the stock could see $30-$31, which is the next longer-term support area. Remember, the original long play at $34 was a fade play. While I will buy into longer-term support, the trade is a lot different than buying a pullback in a strong stock because I was trading against the overall trend. You can definitely make countertrend scalp plays, but the key is to recognize the type of trade you're in and have the appropriate risk for that type of trade.
Daily chart of RAX: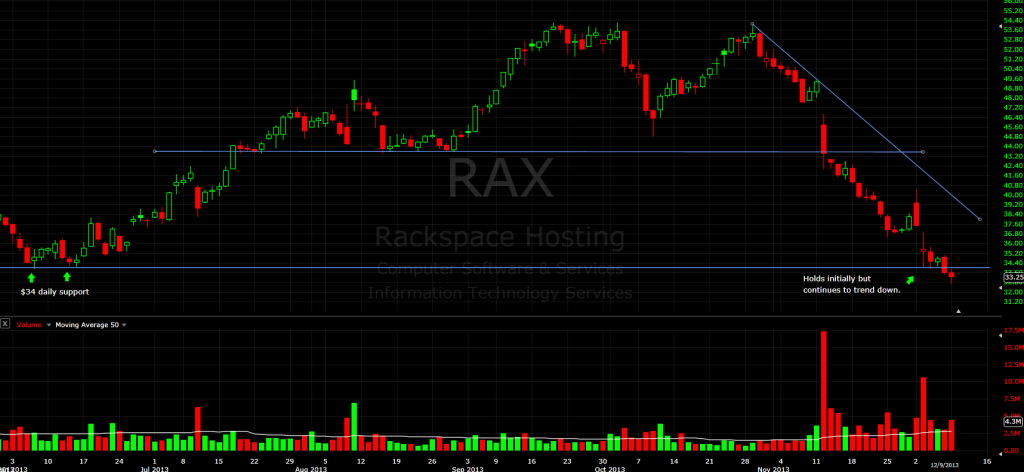 5min chart of RAX showing initial test of support (12/3/13):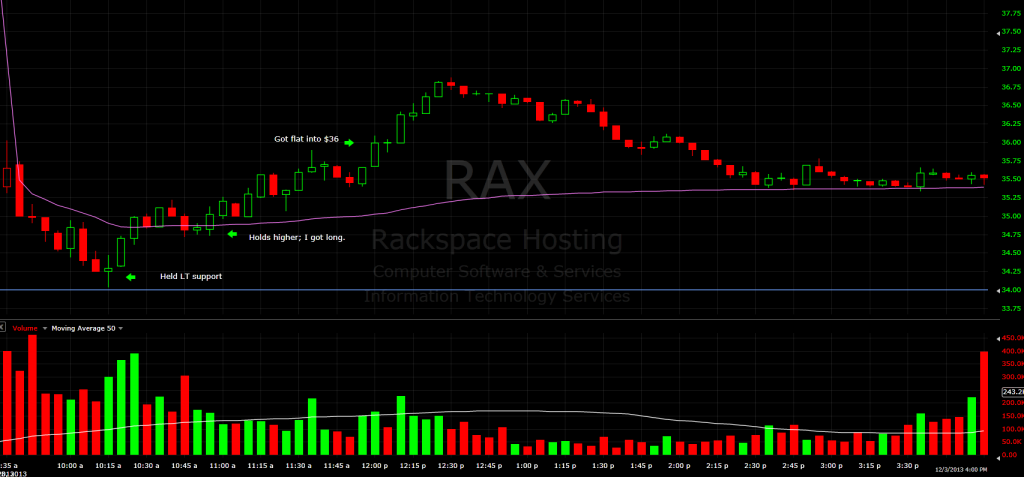 5day, 15min chart: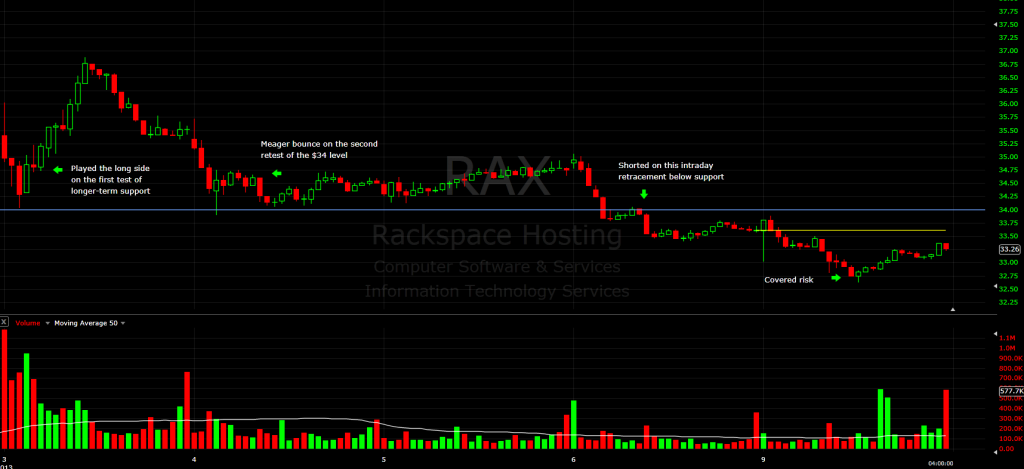 If you have any questions or comments, please just let me know.
StockTwits: @MarketPicker
Twitter: @MarketPicker
Jake Huska
Related blog posts:
Risk: SO Not Just a Game
Improve Our Performance by Watching
Jake is currently short $RAX