I am a pattern trader. Technical pattern trader. Tape pattern trader. News pattern trader. Whatever the pattern that makes sense to my trading brain, my risk preferences and trading sweet spot that gives me an edge in the market.
For the patterns that make the most sense to me I build a PlayBook. One play in my PlayBook is the Full Year News Beat or Miss Trend Trade, another is the Full Year News Beat or Miss Reversal Trade, and then the Full Year News Beat Scalp Trade.
One of the news patterns that I like most for short-term trading is the Full Year miss or beat on guidance. Below is a compilation coming into the Open on stocks that meet this criteria, put together by one of our traders.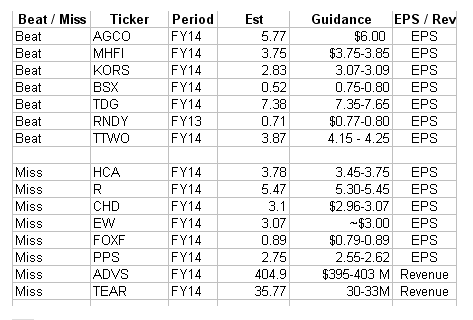 From this list I drill down. I want stocks with increased volume on the open. I check for stocks that are gapping up or down. I stick with opportunities where I can control my risk. I then check to see how the stock is trading in the premarket: its spread, trend, movement, etc. After drilling down I decide whether to Trend Trade, catch a Reversal, or Scalp the stocks with such news.
Play around with this news pattern and see if you can build sub-patterns for your trading with it.
You can be better tomorrow than you are today!
Mike Bellafiore

No relevant positions