I have been inspired to write a quick post from a tweet sent out earlier from @apextrader. He mentions that he got long YOKU around 32.50 and that it has gone back up but been a fairly bumpy ride. Why did he make that trade? And why are so few able to execute this trade?
YOKU recently was beaten down with the rest of the Chinese stocks. It finally started to move sideways and then had a clear break to the upside on Tuesday. It broke out from 32.50 and had a monster move to 37.50. Yesterday it trended all the way back down to 32.60 before bouncing 1.5 points into the close.
Today it dropped like a rock to 32.62 and then reversed fairly hard to 33.50 and consolidated for another 30 minutes before it had a second up leg to 34.80.
I think most traders miss these trades for a couple of reasons. One, they just don't understand how favorable the risk/reward is on buying a stock when it returns to an area where it broke out from. Two, often a stock will look like garbage on the tape when it is returning to a breakout price and traders may wait for some confirmation that the stock isn't going to steamroll them the second they get involved.
Here are a couple of tips to make this trade easier on your nerves. Only go in with a quarter position size as it approaches the breakout price. And only start to build the position size once the trade has moved in your favor and had a chance to consolidate.  As a rule of thumb you want at least 25 minutes of consolidation prior to building up your position.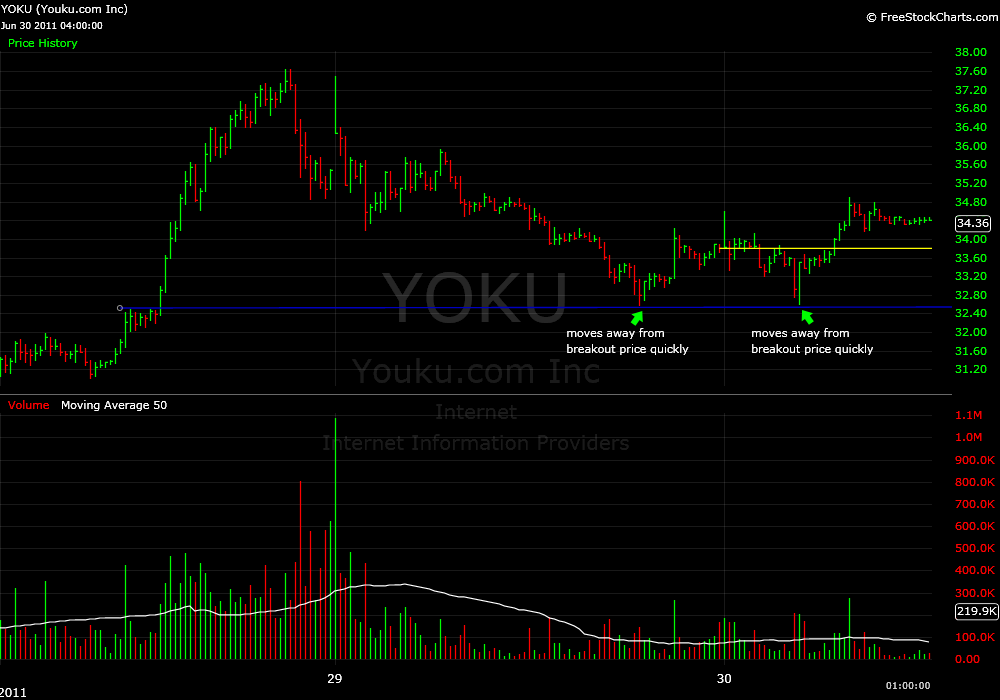 Please follow and like us: