Shifting My Bias
Dec 2nd, 2011 | By
sspencer
| Category:
General Comments
,
Steven Spencer (Steve's) Blogs
I shorted BIG in the late morning today. It gapped down on its earnings release and then proceeded to consolidate below 36.70, which in my view is an important long term support area. My initial short was when a buyer dropped at 36.20. It quickly dropped about 30 cents and then traded right back up to the 36.20s. I shorted some more and placed my stop above 36.30. Eventually it traded below the morning low of 35.90 where a buyer had previously supported it on three occasions.
When a weak stock consolidates at the low and the buyer finally drops the stock should trend lower. If it does not you need to think about the possibility that the stock may reverse its trend. I was off the desk when BIG finally reversed and I was stopped out of my short position. But if I were on the desk and saw the below pattern forming my bias would shift to being long and not short. I have marked up the chart below to explain my thought process.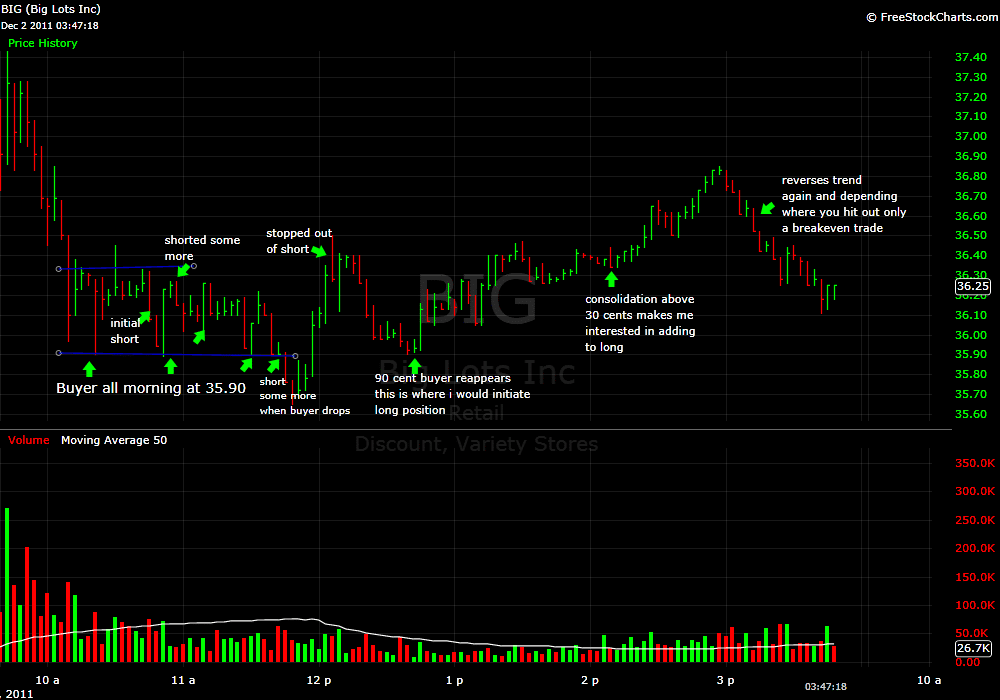 Disclosure: no relevant positions
Steven Spencer is the co-founder of SMB Capital and SMB Training and has traded professionally for over 15 years. His email is [email protected]