Hi Mike,
Thanks for last week's webinar. I think it was helpful to learn more about the specific short trade in EDU last year. Especially for scholars such as me, a webinar is a good chance to stay close to you guys. This is in itself helpful because it keeps the motivation high. Since you asked webinar participants for feedback here are some thoughts that came to my mind:
As a person that starts to learn trading, I still find it difficult to judge from the playbook trades, how high your conviction actually is on specific trades and how that translates into money management.
For example, Bella pointed out that it is important to focus more on the right trades and my understanding was that the EDU short trade was fullfilling most criteria (checks) for us to be aggressive. Still, from the webinar, it was not clear to me, what that meant practically in EDU's case. To put it in questions:
If your daily loss budget was say 1000$, with how many shares would you have initiated the position?
How many checks for the specific trade were in place and which checks were missing?
How has this thinking affected the position size throughout the day?
How did you handle the position size between 10.30-11.30am when EDU broke below 14.00 but then traded up above the support level to 14.50?
Hope this helps as feedback,
@mikebellafiore
As a reference here is the Trade Management chart for the EDU trade we discussed during our webinar.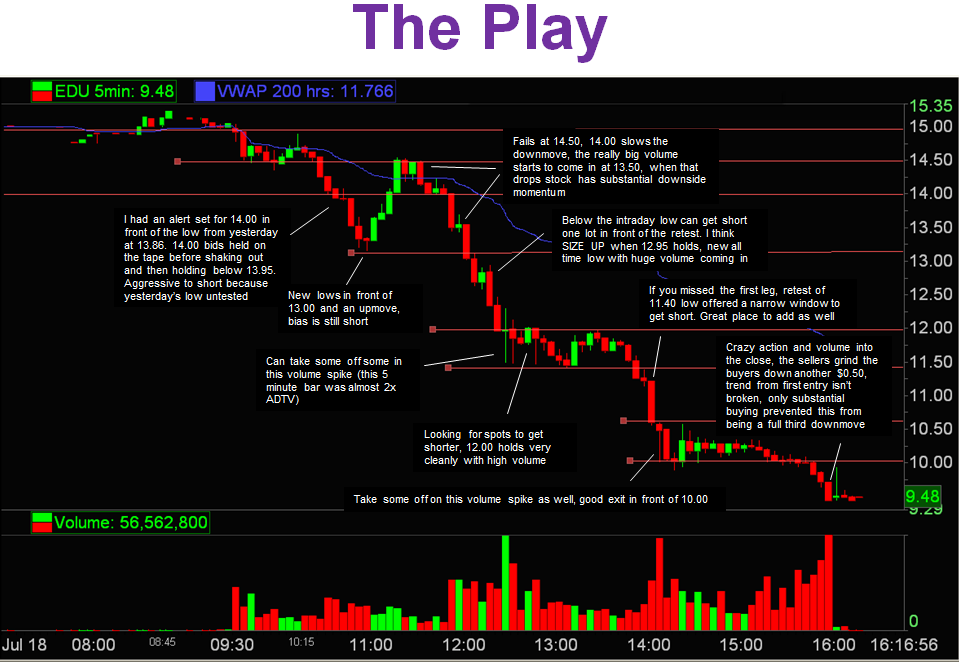 I consider this 2nd Day Play in EDU to be an A+ trade.  For such setups we encourage our traders to risk 30 percent of our intraday stop loss.  So if your intraday stop loss was 1000 then we would risk 300 on this trade.  If the play had a stop loss of 15c then we MUST be short 2000 shares.
What I love about this trade was the news.  Intraday news of a government investigation causes significant volatility in a stock.  Also I love to play for follow thru when a stock is especially weak the day before.  So when EDU broke 14.50 on this 2nd Day I love this short.  Below the low from Day One can also be a powerful short.  There will be spikes in stocks like this and I would say that this is one strike against it.  It can be hard to stay in your Trend Short Trade because an upmove spike may stop you out.
Great question about the move 10:30ish to the 14.50 R level.  When in a Trend Trade you need a Reason2Cover.  Breaking the intraday downtrend is a Reason2Cover.  When EDU does this you must cover.  Then you have another Trade2Hold Trend Short near the 14.50 R level.
So you catch the short after it breaks the intraday support at 14.50.  You cover when your intraday trend line is busted.  You reshort and hold when EDU find the 14.50 intraday R level. Overall this is a very opportunistic 2nd Day Play.
Please sign up for our next The PlayBook Webinar on a Trend Trend Trade, a very effective swing and intraday set up. 
Mike Bellafiore
no relevant positions
Please follow and like us: