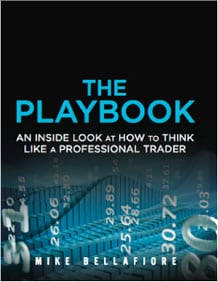 Want to become a truly great trader—either for yourself or as a trader for a proprietary trading firm?
The PlayBook
will help you get there.
The PlayBook
utilizes a unique approach that is the closest thing to signing up for a "trader boot camp". You'll learn by "watching" new traders walk through actual trades, explain what they've tried to do, and try to survive brutally tough expert critiques.
The PlayBook
reveals how professional traders must think in order to succeed "under fire," how they assess their own performance, and how they work relentlessly to improve. Using concrete, actionable setups drawn from his extensive trading and training experience, Bellafiore walks through an extraordinary array of trades, showing readers how to maximize profits and avoid disastrous hidden pitfalls. He covers support plays, bull-and-bear flags, opening drives, important intraday levels, bounce and fade trades, pullbacks, scalps, technical opportunities, consolidation, relative strength, market trades, and more. He also presents indispensable insights on psychology and trader development, based on his work with hundreds of traders on a major commodity exchange and an elite prop firm's trading desk.
Packed with color, personality, and realism,
The PlayBook
is an exciting guide to real-world trading
The PlayBook
 is available for purchase on Amazon (
hardcover
 and 
Kindle
) and 
iTunes
.
You will receive these special offers with
THE PLAYBOOK
OFFER ONE:

Receive recordings of The PlayBook Webinar Series


There are 10 Webinars in all. You will also be able to get free access to an SMB Mentoring Session. Each day SMB's partners and senior traders work with traders on their desk, and now you can gain virtual access to one of these training sessions.



OFFER TWO:

35% Discount on SMB Trading Tools


Join our SMBU community and learn while we share our best trading ideas. Get SMB Scanner, Stocks In Play, SMB Radar, and SMB Real Time for $279 (35% off) for the first month.



OFFER THREE:

10% Discount on SMB Foundation


The SMB Foundation for remote traders is is a five-week program that will help you develop valuable trading skills that are key to becoming a self-directed elite trader. You will receive 10% off the course.
GET A FREE CHAPTER
OF
THE PLAYBOOK