I stress for our traders to trade with the trend.  We teach generally that if a stock is in a clear downtrend to follow that trend.  There are exceptions.  FB today was one such exception.
After the close I pinged to our traders:
Why would it have been correct to get long FB today even though it has been in a complete downtrend?

I cannot give you guys too hard of a time for not getting long but we need to review an important market principle.
One of our traders who caught some of the FB long said it well:
A lot of people are caught short over the last few days as Facebook has been in a downtrend. On top of that people were caught short intra day. Above 27.36, everyone short intra day would cover because this was the level that it failed at several times. Also, this was the reversal pattern on the hourly chart adding more fuel to the fire. A ton of volume came in and the stock showed tremendous relative strength that we have not seen in this stock lately. This was a change in character. This powerful move up on a lot of volume and reversal of the intra day and multi day hourly downtrend can lead to a very big move up. Upon noticing this, if one missed the initial move, one could get first pull back to the 27.70/28 area which was around VWAP. Additionally, the market broke above the intra day high of the SPY as even more volume came in to FB and people piled in. This was the first time that we saw such strength in the stock as of late. People have been afraid to buy the stock because there are no known support levels with an IPO. Thus, when we finally saw this explosion to the upside, people finally showed willingness to buy and piled on. This doesn't necessarily mean that the stock will go all the way back up to levels of the IPO, but it can certainly continue to trade higher and we now know important levels to focus on in future trading of FB. We should make money of off this tomorrow and in days going forward.  Thoughts?
I responded:
Very good language Leo.

If a stock in a longer term downtrend clearly has a change of character then you can consider getting long.

Increased Volume.

Breaks the Intraday downtrend.

Lots of shorts perhaps trapped.

These all help.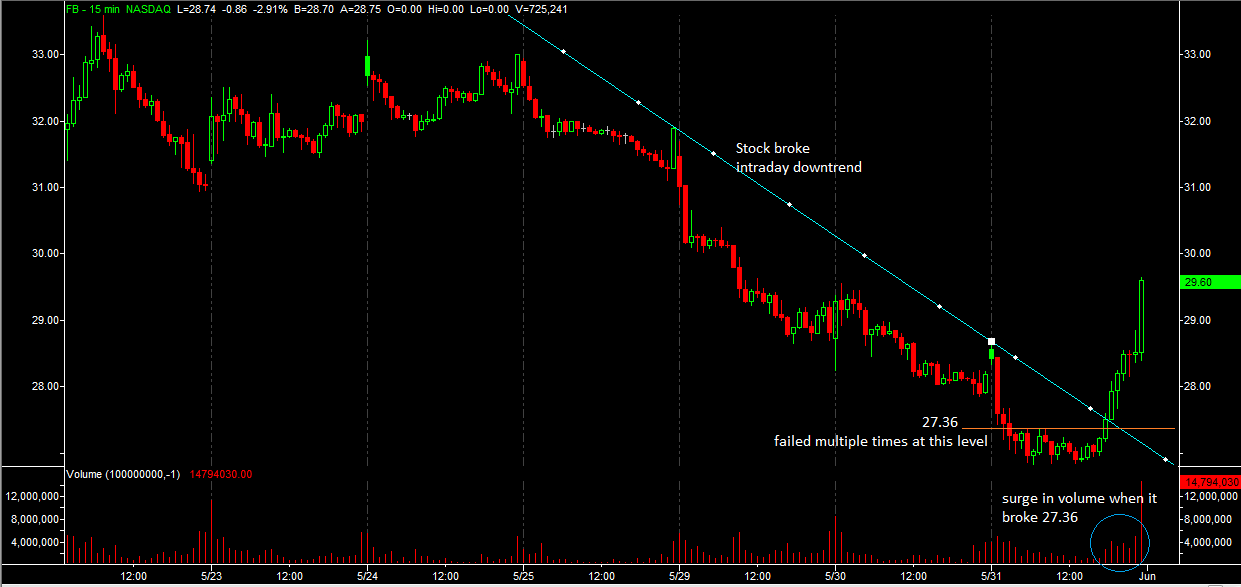 Bella
no relevant positions