Trading Scenarios: $ANF
Jan 14th, 2014 | By
Jake Huska
| Category:
General Comments
,
Guest Blog
,
Trading Ideas
,
Trading Lesson
***Editor's note: Jake Huska is a college student working on his trading game. At SMB we believe traders should start working on their trading game early, just like pro athletes. Jake's posts reflect a better journey toward becoming a pro trader for the college student with a passion for trading.***
As short-term traders we are price agnostic. We don't care where a stock goes. Instead, we are focused on whether the stock's price movement can be defined by a good risk/reward setup. When I'm trading a stock intraday, I typically have a long or short bias based on the stock's price action. I say "typically" because there will definitely be times where I'm neutral on a stock and therefore I will stay away since I don't feel that I have an edge.
With that being said, when you're game planning in the morning before the open, you should outline the most likely scenarios that you believe will play out as well as how you will trade each scenario. Sometimes multiple scenarios occur during the course of the day, while other times the stock does something completely unexpected. Of course, you may have to alter your plan as things progress throughout the day, but the point is to be prepared. When you first begin your trading journey, your scenario list may be something simple like this:
"I want to get long stock XYZ above $X and short below $Y."
As you begin to advance in your trading, each scenario will become more nuanced with different factors and variables coming into play. I'm still relatively early in my trading journey, but I try to add more nuance to my trading as I gradually progress.
All right, let's get to the trade: ANF. On Thursday, January 9, Abercrombie issued better than expected FY14 earnings guidance, which caused the stock to pop up initially over 17% in the after-hours. The initial thrust in the post-market stalled out at a major technical resistance at $38.70-$39, above which is the beginning of a five-month gap. The failure in the post-market at this major technical level on the larger time frame caused me to have a short bias—assuming I could get a low risk entry.
The stock had developed a $1.50 range in the after-hours and pre-market, which gave me some nice room to work with. Ideally, I was hoping for a quick pop on the open up near that $39 level to initiate my short position. With that one scenario in mind, I put out an offer to get short (before the open) at $38.75 and knew I would be out above $39. With a $1.50 range to work with, the risk/reward in this trading scenario was over a 5:1; unfortunately, however, the stock never popped up far enough to hit my offer.
Another trading scenario that I had game-planned in the morning was a break/hold below the pre-market support of $37.50 where I would look for a short setup for a move down towards $36. While the stock did eventually trade below that $37.50, it wasn't clean enough for me to initiate a short (nuanced).
Finally, another scenario from my morning plan was to look for a long setup near $36 if there were some buying above this level. This is the one and only trading scenario that I actually traded that day. You can see the details of my trade management in the chart below.
Daily chart of $ANF before the open: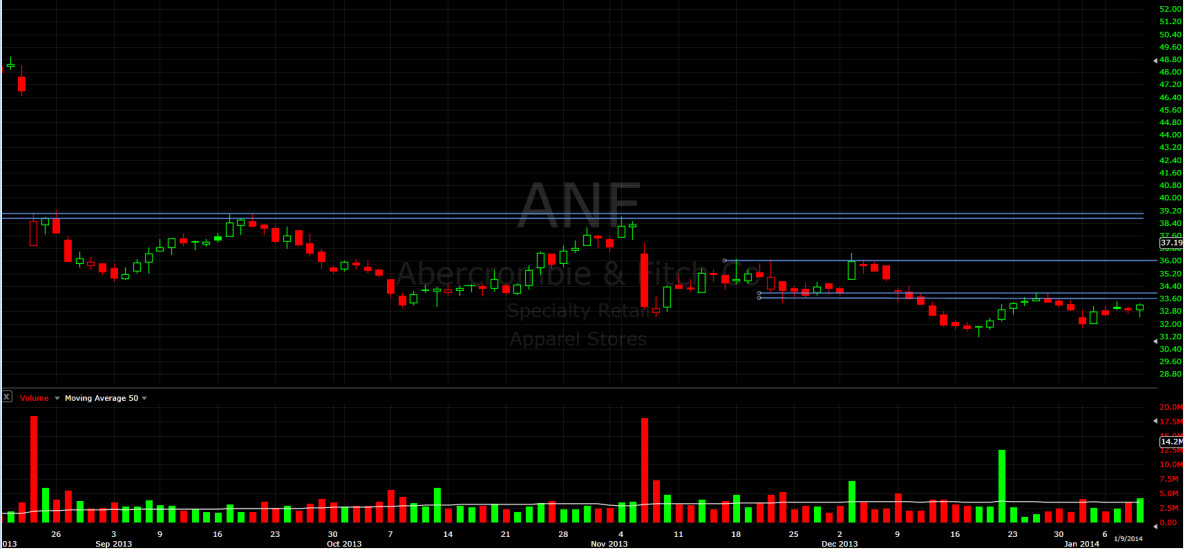 15min chart showing failure at $39 in the post-market: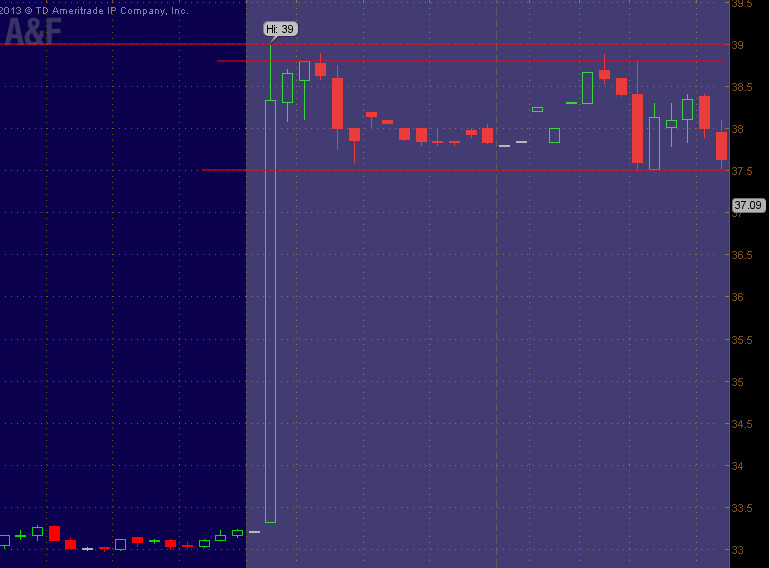 Intraday, 5min chart with trade management: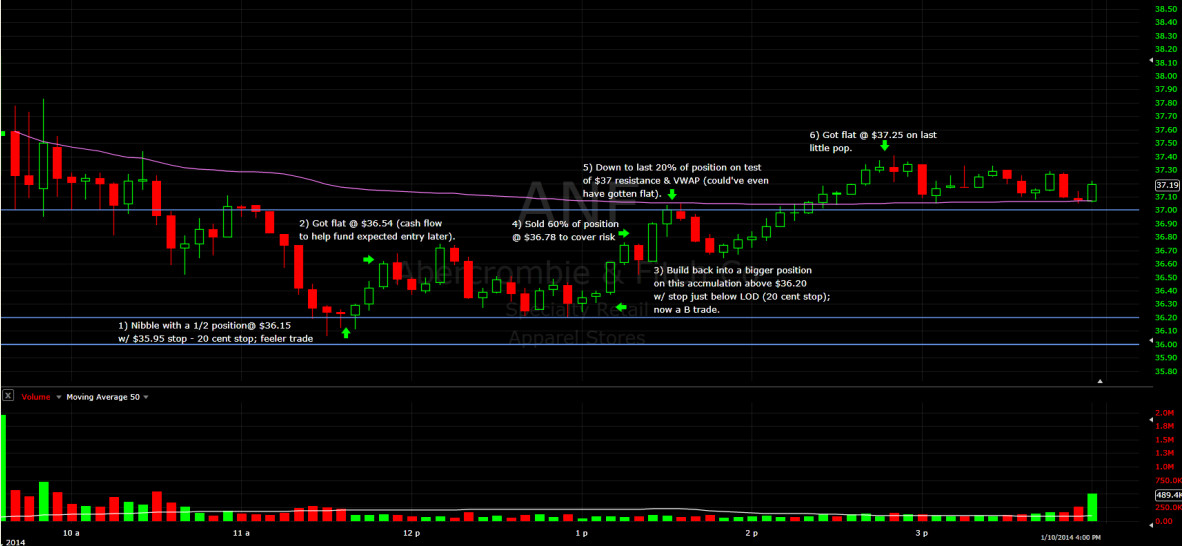 Overall, there was a nice trade on the long side, but of course it would've been even better if I had been able to catch the early morning short as well. I guess you can't get them all!
Please let me know if you have any questions or comments.
Jake
Twitter: @MarketPicker
StockTwits: @MarketPicker
Related blog posts:
First Team Wall Street: The Next Generation
So You Say You Want to Be a Pro Trader
No relevant positions